Morocco
Morocco midfielder Amine Harit gets suspended sentence after fatal car crash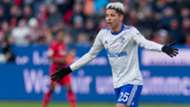 Morocco midfielder Amine Harit has escaped with a four-month suspended jail sentence for his alleged involvement in a car crash that killed a pedestrian.
Reports suggest that the France-born Morocco international fatally injured a pedestrian while on holiday in Marrakech on June 30, a few days after returning from the World Cup.
Initially facing a lengthy jail time, Harit cooperated well with the police before entering into an amicable and financial agreement with the victim's family.
His cooperation with authorities included handing over his passport which was returned to him two weeks later, before he was allowed to leave Morocco and report for pre-season with his Bundesliga club on July 6.
According to KweseESPN, Harit would be placed on probation and will also pay a fine of 8,600 dirhams, about €780.
Soon after the accident, enormous support poured in for Harit, including from his club Schalke 04.
The accident came after he featured in just one of Morocco's three World Cup matches in Russia.