A-League
More than a mullet: Rhyan Grant looking to stand out for Sydney FC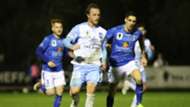 While his rather questionable hair style choice has caught the eye early on, Rhyan Grant is hoping to turn heads for all the right reasons this season.
After a long injury lay-off, the Sydney FC right back has returned to full fitness and is looking sharp as he enters his tenth straight year with the Sky Blues.
The 27-year-old is therefore no stranger to a Sydney derby and is looking forward to his first one in some time to be played on the hollowed, if unfamiliar turf of the SCG.
"We're confident going into any game, but considering our record over the Wanderers at the moment we are in good stead," Grant told Goal.
"It's always a great encounter and great atmosphere.
"I'm so psyched for that (to play on the SCG). They don't play soccer there very often. To play on such an iconic venue it's going to be very cool."
With Graham Arnold departing the Sky Blues at the end of last season, Steve Corica has taken charge of Sydney FC having previously been the club's assistant coach.
The change in dynamics has barely registered for Grant, who has backed his former teammate to succeed in the top job. 
"I've known Bimbi a long time now. We've always had a good relationship and that hasn't changed," he said.
"He's a relaxed character and all round good fella. You've got to look at him as a head coach now and pick and choose went to have your bants with him and what not.
"Looking forward to having a good year under him. I'm really confident we've got the right man for the job in Bimbi."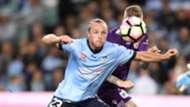 Having regularly represented
Australia
at youth level and included in a Socceroos squad prior to his ACL injury, Grant admits he has one eye on earning his first cap for the national team.
Only just back from injury, the defender plans to take things one step at a time, but is hopeful a good season could see him reunite with Arnold.
"That's definitely a goal of mine to get in around it again at some stage, but at the moment you've got to concentrate on playing footy," he said.
"I've got to find my feet again, hopefully a bit of form and you never know what might happen."
While putting in a solid performance against Adelaide United last Friday, it was Grant's mullet that really caught the eye and it's something he is priding himself on. 
"I like to be a little bit different," he said.
"I feel like a lot of soccer players have the same haircut so I didn't want to fall into that same category.
"A lot of people that know me know I'm a little different, silly at times so it's one of those things.
"The more people give me stick about it, the more I want to keep it. So I'm copping it a fair bit but that's what it's all about. I don't see it going anywhere." 
While his mullet might be staying put, expect Grant's star to rise should he enjoy an injury-free season at Sydney FC.