Chelsea
'Morata has been stressing out' - Fabregas backs Chelsea striker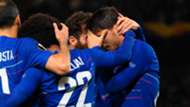 Alvaro Morata has been backed to keep on scoring for Chelsea by team-mate Cesc Fabregas following the striker's emotional reaction to his winner against MOL Vidi.
Chelsea laboured to a 1-0 Europa League victory on Thursday, with Morata one of many Chelsea players who underwhelmed at Stamford Bridge before the £58 million ($76m) striker finished from Willian's flick-on with 20 minutes remaining.
The 25-year-old striker appeared to be very emotional after scoring, burying his face in Willian's shoulder.
Morata has endured a difficult 2018, with his goal against MOL Vidi only his second this season, and Fabregas acknowledged his fellow Spaniard has been "stressing out" about the situation.
"Alvaro will [remember this game] I'm sure, it was very important for him," Fabregas said at Stamford Bridge. "You can feel he was trying to be a little bit nervous about the situation. He was stressing out a bit, so the goal will do him a lot of good. 
"I think this happens to all the strikers, they want to score goals. That's their nature. I've never felt it as it is not my game. But I feel for them when they don't score goals, especially Alvaro as I have a good relationship with him and I know that he suffers as he cares a lot.
"That's very important he cares as he wants to do really well in football. Sometimes it happens and sometimes not, but I'm very happy for him. We believe in him, we believe in everyone. Definitely it's up to him to keep trying as he's doing and behaving in the way he does.
"His attitude is spot on and he always tries his best. We are delighted and hopefully this is the first of many."
Meanwhile, Fabregas says that Chelsea will quickly forget their below-par display against the Hungarian champions and bemoaned his side's inability to break down their unfancied opponents early.
"We know this type of game. They can be tricky if you don't score early," he continued. "We tried but they defended very deep, very compact. As I said you find it hard to break them down. If you don't do it quickly then what happened can happen.
"But at the end of the day we found our resources to score a goal. As I see the team tried, we put pressure up front and really tried our best. It was three points but probably no-one will remember this game again."

Chelsea sit top of Group L with six points and they remain undefeated in the Premier League ahead of Sunday's match with Southampton.