Premier League
'Monster' Van Dijk could have ended up at West Brom - Fletcher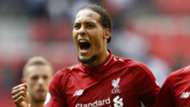 Darren Fletcher says he told West Brom to sign Virgil van Dijk in 2015, but the defender's price tag at the time was too much for the club to part with.
The Scottish midfielder, now at Stoke City, says he kept a close eye on Van Dijk during the Dutchman's stint at Celtic.
Van Dijk featured for the Scottish club from 2013-15, winning two league titles before joining Southampton for a reported £13 million ($17m) transfer fee.
Now recognised as one of the best defenders in the Premier League at the heart of Liverpool's defence, Van Dijk earned plenty of praise from Reds' great Jamie Carragher on Sky Sports' Monday Night Football.
Carragher called the defender not just one of the best centre-backs in the league, but "one of the best players in the league", and Fletcher agreed before telling a story of how Van Dijk to West Brom nearly came to be.
"With my Scottish connections, I watched him play for Celtic," Fletcher said. "We [West Brom] were looking at centre-backs after the first summer we've been there, and I recommended Johnny Evans who we managed to get, which was fantastic,"
"And I also said to go and get Van Dijk. I think it was before he went to Southampton for I think it was £10 or £11 million, and obviously West Brom felt it was maybe a bit too much.
"They were umming and ahhing about £6 million for Johnny Evans. So you can maybe see the dilemma. There wasn't much money.
"I don't think you'd call them Tony Pulis centre-halfs though, Johnny Evans and Van Dijk!"
Virgil van Dijk one of the best players in the league? Darren Fletcher has no doubt. 👊

He also explains how the @LFC centre-back could have ended up at @WBA...👀

Watch #MNF with @Carra23 and Darren Flecher live on Sky Sports Premier League now! https://t.co/Pu496D1spu pic.twitter.com/GwyVZ31SDL 
— Sky Sports MNF (@SkySportsMNF) November 5, 2018
Van Dijk has been an integral part of Liverpool's surge since joining the club in January for a record fee of £75m ($98m).
Thus far, the Dutchman has been worth every penny, featuring 22 times for Liverpool last season en route to the Champions League final.
This campaign, Van Dijk has played in each of Liverpool's 11 Premier League matches as the club currently sits third behind Chelsea and Manchester City, having allowed just five league goals this season.
"He's made a massive difference to Liverpool. He's a monster," Fletcher added.
"He's so big and powerful. He cruises through games. He's top class."
Liverpool face Red Star Belgrade in the Champions League on Wednesday before taking on Fulham in one final league match before the international break.