Ivan Rakitić
'Monchi as good as buying 10 new players' - Barca star Rakitic hails in-demand director amid Roma talk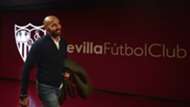 Barcelona midfielder Ivan Rakitic has saluted outgoing Sevilla director of football Monchi, saying his presence is "like buying 10 new players".
The Croatia international spent three years with the highly-rated 48-year-old at Ramon Sanchez Pizjuan prior to moving to Camp Nou.
He was impressed by him then and remains a loyal admirer of his talents now.
Monchi is being heavily linked with a post at Serie A outfit Roma, while admitting to also generating interest from the English Premier League, and Rakitic expects him to be successful wherever he ends up.
He told Gazzetta dello Sport: "If he goes to AS Roma, they may win. To take him is like buying 10 new players, he would be very positive for the club."
Monchi is not the only one preparing to leave his current post at the end of the 2016-17 campaign, with Barca boss Luis Enrique having made a similar announcement regarding his future.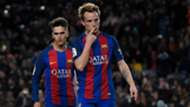 No successor has been put in place as yet for the highly successful coach and Rakitic is reluctant to be drawn on the subject at this stage.
He added: "Barca's future after Luis Enrique farewell? I'm very quiet about it. I understand Luis Enrique is tired, he takes care of every detail."
For now, Rakitic is fully focused on Barcelona's efforts in La Liga and the Champions League.
Suarez steps up with Messi missing
The Catalan giants currently sit two points behind Real Madrid in the domestic standings, while a heavyweight quarter-final encounter with Juventus awaits them in Europe.
"Juventus are the landmark for Italian football and are of the best teams five to 10 teams in the world," Rakitic said on an upcoming continental challenge.
"Barcelona are not happy at having to challenge Juventus and [Mario] Mandzukic has told me that they aren't happy either."