I-League
Mohun Bagan Update: IFA fines Shilton Paul and Kinshuk Debnath, suspends Debasish Dutta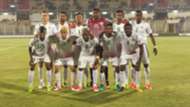 After showing promises of meting out punishments according to rule-books, the Indian Football Association (IFA) on Saturday melted under pressure as it announced its verdict against the Mohun Bagan players, who had manhandled the referee in the Calcutta Football League derby held in September.
Senior players Shilton Paul and Kinshuk Debnath have been fined 2 lakhs and 1 lakh respectively, while senior official Debasish Dutta has been suspended for three matches, which means he will not be on the bench against East Bengal in December. Club physiotherapist Abhinandan Chatterjee and official Srinjoy Bose have been cautioned.
In the marquee clash held in Siliguri, the Green and Maroon players had heckled referee Ranjit Bakshi after he awarded a penalty-kick to East Bengal. TV footage clearly showed players pushing and shoving the referee which usually results in long suspensions.
However, the IFA took months to settle the matter which meant that if the players were suspended, they would miss the first few I-League matches. However, a timely resolution of the issue would have seen them miss Sikkim Governer's Gold Cup, where Sanjoy Sen's boys took part last month.
So, it seems that the IFA's promise of punishment commensurate to the charge has been betrayed by its own procrastination. 
Only a week back, the association had slapped a three-match ban on Syed Rahim Nabi of Peerless for arguing with the referee but they claimed that it was more because Nabi didn't attend the disciplinary committee hearing and less because of the crime.
Mohun Bagan will start their I-League campaign away from home against Minerva Punjab.