MLS Spotlight: Alex Bono blossoming in goal for record-setting Toronto FC

Ives Galarcep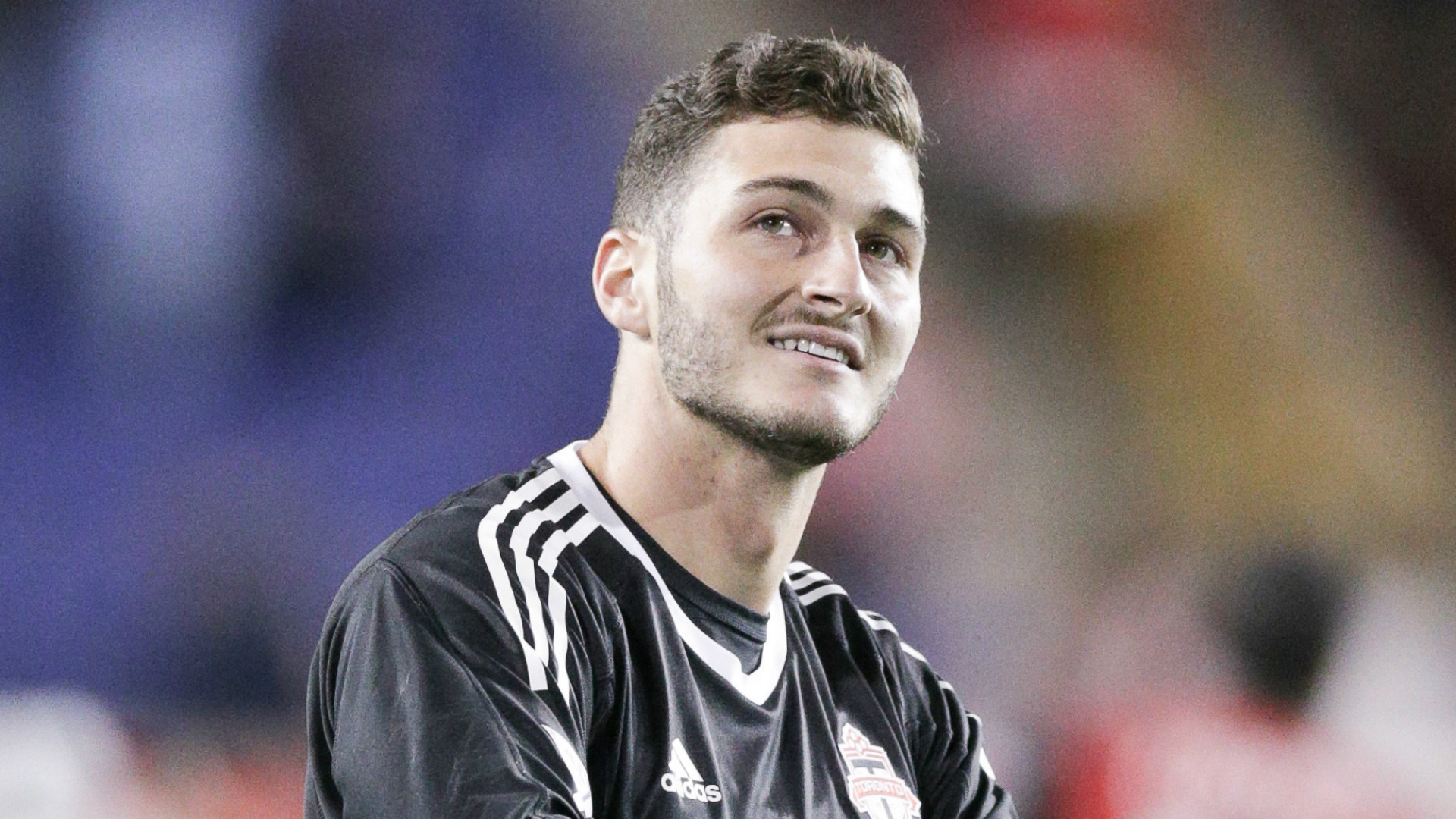 Alex Bono is reaching the tail end of his first full season as a professional starting goalkeeper, but you wouldn't know it from watching him play. The 23-year-old Toronto FC goalkeeper is one of the youngest shot-stoppers in Major League Soccer, but his relative inexperience didn't stop him from winning the TFC starting job over established veteran Clint Irwin, and his impressive poise has helped Bono keep it through what is shaping up to be a dream season for him and his team.
"He's confident, but he's not overconfident," TFC defender Drew Moor told Goal when asked what makes Bono so good at such a young age. "He's not cocky. He's a very good shot-stopper. He talks a lot, his communication is great. He's a lot better with his feet than he's been given credit for up to this point of his career. He's just a confident young goalkeeper."
Bono doesn't generate the same headlines than the stars on his record-setting Toronto squad, but you can argue no player has had a bigger role in TFC's current playoff run. His huge series-saving stop to deny a Bradley Wright-Phillips chance helped TFC hold off the New York Red Bulls, and his quick-reaction save on a Harrison Afful shot from close range helped preserve the shutout in their Eastern Conference finals first-leg draw against the Columbus Crew.
Those are the exact kind of heroics TFC was hoping Bono would one day manage when he was chosen with the sixth overall pick in the 2015 MLS draft. The same qualities that helped him emerge as one of the best young goalkeepers in MLS in a season that saw Toronto FC set a new league record for points.
"My goal this year was to make it very difficult for the coaches to take me out of the lineup when I got the opportunity," Bono told Goal . "That's how I approach every game, knowing I have to keep performing to keep the job."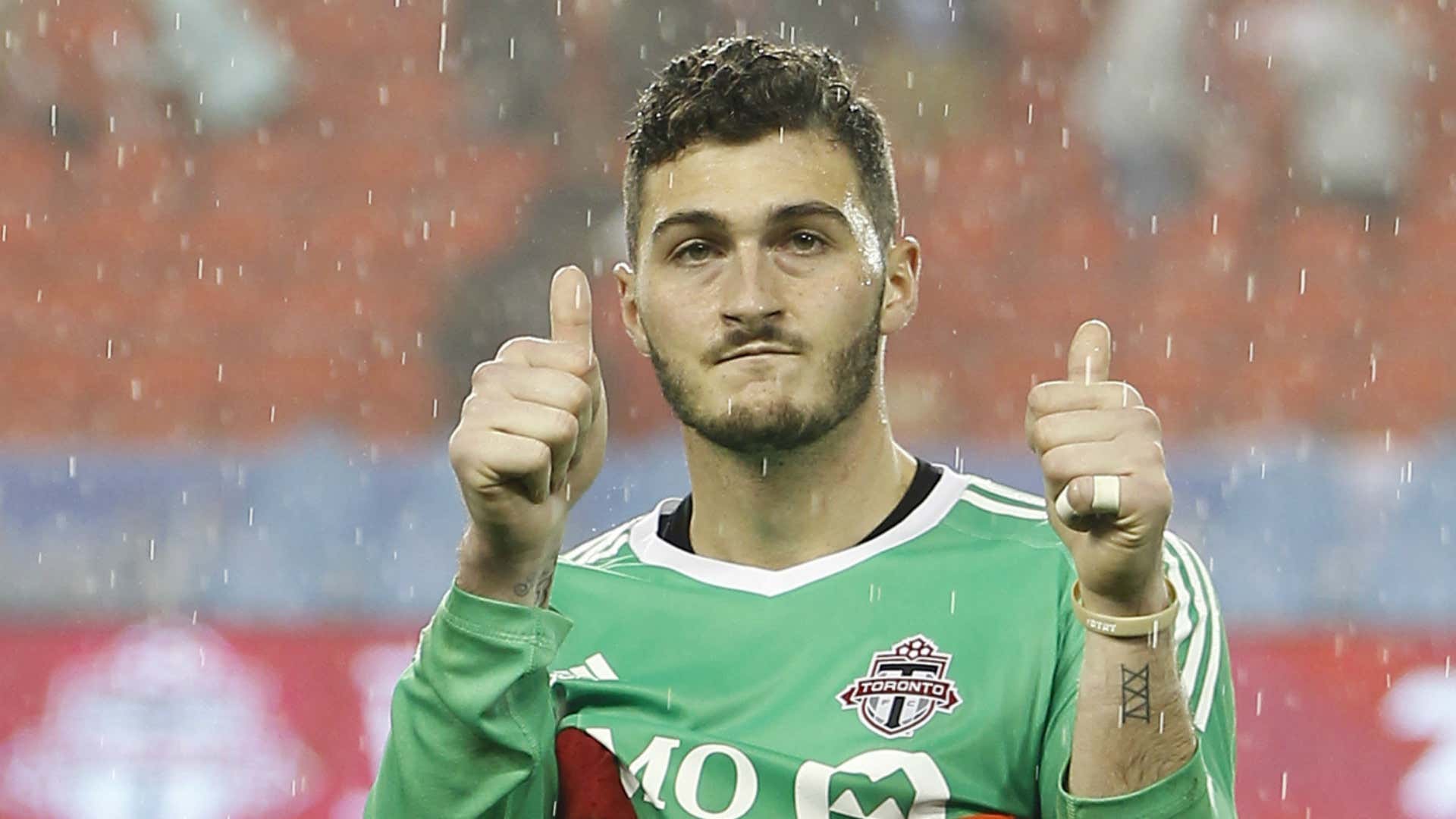 Toronto FC probably wasn't expecting his rise to first-team starter to come so quickly, but Bono's rapid ascent began before he was drafted. It started during Bono's junior season at Syracuse University, where he was in his third year as a starter and earning interest as a Generation adidas target. Bono eventually left school after that season to sign with MLS, but not only did he wind up being a high draft pick in 2015, he also earned a surprising call-up to the U.S. national team camp as part of a squad that included the U-23 players coach Jurgen Klinsmann was looking at ahead of Olympic qualifying.
"It was wild and it went by really quickly," Bono said of the whirlwind months before he joined TFC. "I remember I was on my way to the MAC Hermann (Award) ceremony and I get a call from Klinsmann. I thought it was a prank at first.
"All of a sudden I'm in a locker room sitting across from some of the same veterans who were in the World Cup the summer before."
The high of earning a USMNT call-up was soon followed by the low of facing the reality of being a rookie goalkeeper. He wasn't going to challenge for first-team minutes in his first year, but TFC decided it was better to have Bono play with its USL affiliate, TFC II, to gain experience.
"Your first thought is it's disappointing," Bono said. "You have expectations for yourself, and I believe every player should have high expectations for themselves their rookie year, but then it's on them to adjust and accommodate accordingly to what the team view is of them.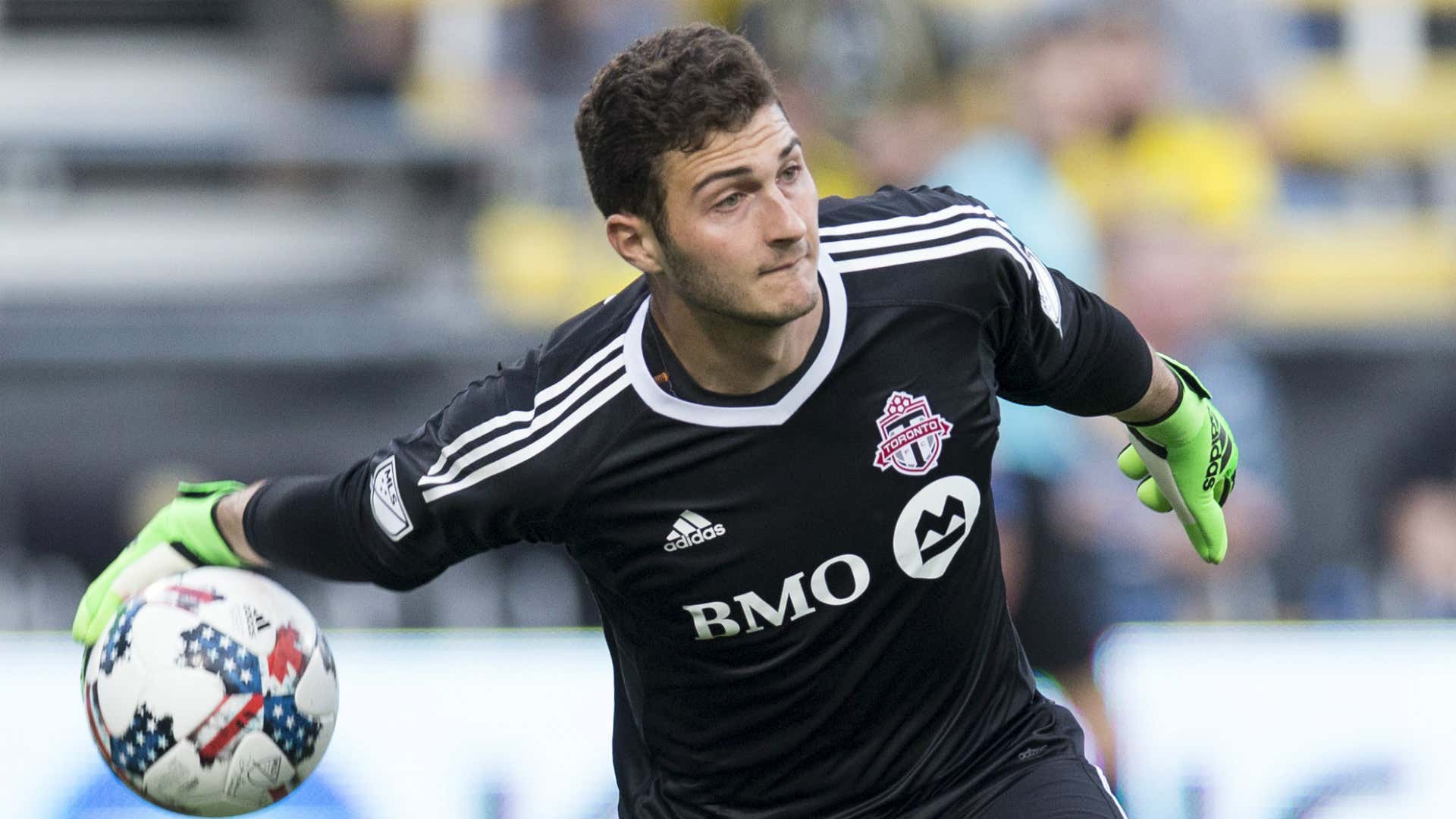 "They wanted me to be part of the USL team and get experience and get minutes, and they were valuable minutes," Bono added. "I learned a lot in that first year with TFC II. Just being hard-nosed and being able to deal with the adversity that getting sent down would give somebody."
The reality is Bono wasn't ready for the first team when he arrived, but the year spent with TFC II helped put him on the fast track.
"When he first came in he still had the physique of a college kid. Kind of probably just hanging out and doing his thing," TFC goalkeeper coach Jon Conway told Goal . "He didn't have that professional mindset that he needed to be fit then and capable of the rigors of professional soccer. I think that first year was a huge step for him. It took a while for that to start to kick in for him. I think the commitment was always there, I just think he didn't realize what it would take. He had the drive to work, and toward the end of that first year he found it. When he came into his second year, you saw the difference.
"His mental approach has changed as well," Conway added. "He got stronger mentally and has been able to deal with the ups and downs."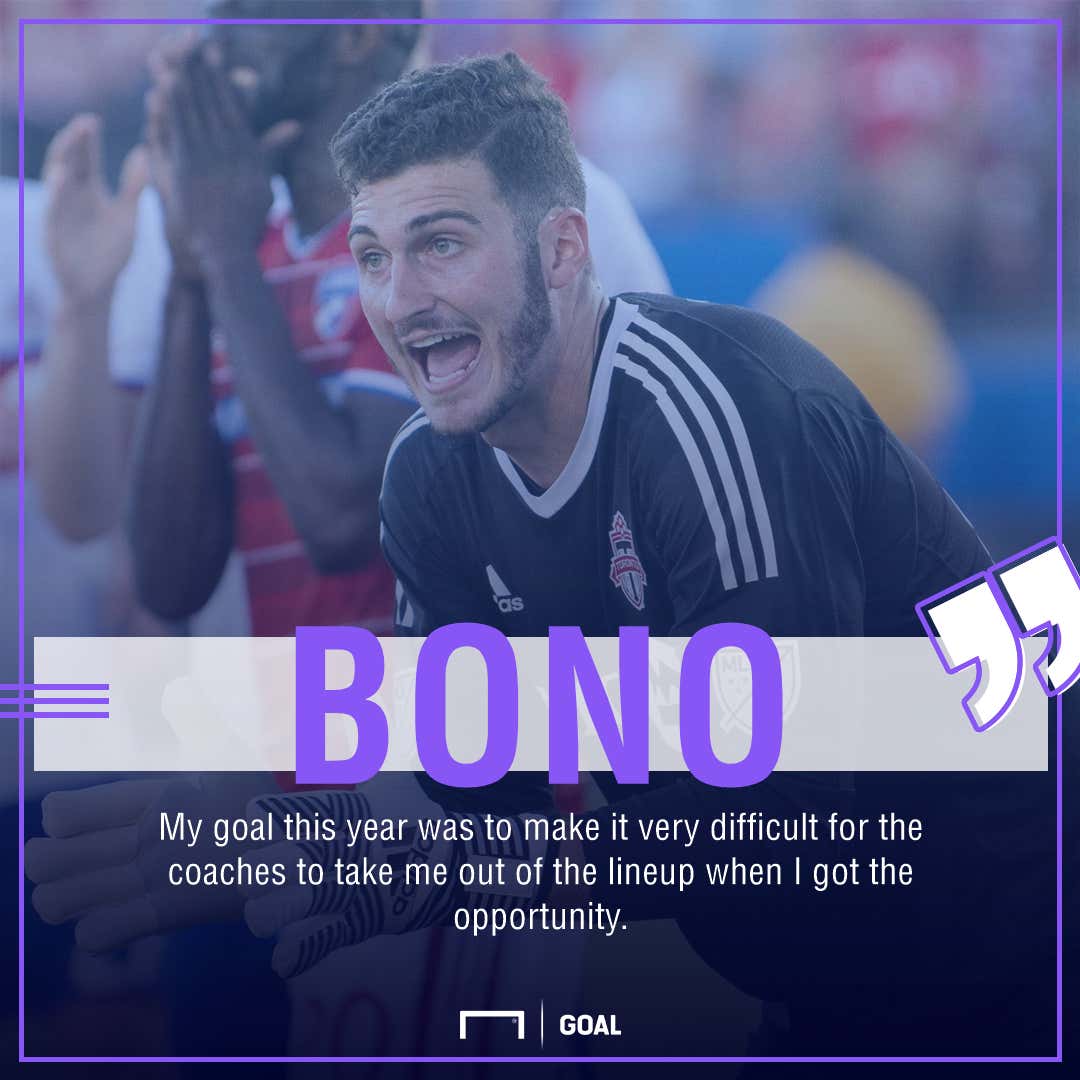 That much was made clear in 2016, when he was thrust into the starting role after Irwin went down with an injury in the middle of the season. Bono went on a run of 14 straight starts that helped him round out his game even more, and give him the belief he was ready for the starting job full-time, even though Irwin wound up returning and regaining his starting spot through the end of the 2016 regular season and TFC's run to the 2016 MLS Cup final loss to Seattle.
"When I finally got the opportunity to come back up, it had a higher value to me to stay there because I knew what it had been like to be sent down and have a bit of a demotion," Bono said. "I definitely had a higher value of my time with the first team, and when I was up there for good, it was important for me to not take it for granted."
Though Bono didn't start in the playoffs last year, he still gained invaluable experience being part of the team through TFC's run to the final.
"MLS Cup wasn't quite a really exciting game in terms of the action part of it, but just being part of an occasion like that is something I'll never forget," Bono said. "Taking that experience with me and just being part of that team is something that gives you experience even though it wasn't game experience. I gained the experience of being in that scenario, now this year I know what it's like to be in a full stadium and what that environment is like, and all the things you have to deal with around the games."
That experience has shown in how Bono has carried himself in the playoffs. He has turned in three strong outings in the postseason, and will have a chance to play in, rather than watch, an MLS Cup final if he can turn in one more strong outing Wednesday against Columbus.
Bono's form in 2017 has also thrust his name into the conversation of national team prospects, and with the USMNT in position to experience some turnover at the position, Bono has positioned himself to be in the conversation of top young prospects alongside the likes of Zack Steffen, Ethan Horvath and Jesse Gonzalez.
"Being a part of the national team and playing for the national team is the biggest honor you can have, and just to be a part of that program is an ultimate goal of mine," Bono said. "If you take care of business with your club team, the national team will come along with that."
Bono isn't spending a ton of time thinking about the national team though. One thing you notice when talking to him is that he's very grounded and mature for a young goalkeeper in what is still just his third season as a professional. As impressive as he has been this year, he is still growing as a player, and still has room to develop.
"We're still in the foundation stages of his career," Conway said. "At this point he's got 50-something games in his career between first team and USL, so we're still building the foundation of his career. In terms of his consistency, that's part of the process and he's been excellent this year.
"He's had some games where he could have done better on some goals, and he understands that and he puts the stuff that we discuss into action in the next game."
TFC will be banking on Bono's next games being as good as his recent playoff performances. If he can deliver that, Bono could head into 2018 with an MLS Cup and a call-up to the USMNT that won't be a surprise this time.