Mizoram
Mizoram U15 League to begin on 4 August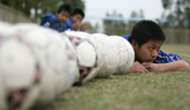 The inaugural edition of a ten-team Mizoram U15 League will kick off on Saturday, 4 August. The youth league is jointly commisioned by the Mizoram Football Association (MFA) and Tata Trusts.

Former I-League champions Aizawl FC's U15 side and former player Shylo Malsawmtluanga's academy - M 28 Academy (Republic Veng) will be the big draws in the league that is expected to run for about four months.

Aizawl Grassroots Centre, Bawngkawn GSA, Chanmari FC, Competitors for Christ (Ramthar North), FC Stonzz (Armed Veng), Kanan FC, Sihphir Venghlun FC and Tata Trust COE are the other eights teams. All matches will be played at the Rajiv Gandhi Stadium in Mualpui, Aizawl.

"We want to put more emphasis on youth football to ensure our overall progress continues. We are very excited that our young footballers will have four months of proper competitive football to hone their skills. We hope this league will generate future football stars," said MFA Grassroots and Youth Development Committee Chairman PC Vanlalhruaia.



The format followed will be a double round-robin league, with the top four teams qualifying for the semi-finals. All matches will take place on Saturdays and other school holidays. The duration of the games will be 70 minutes each.
The prize money for the league is as follows:
Champion – Rs 50,000
Runner-up – Rs 30,000
Semi-finalists – Rs 20,000 each
5th position – Rs 18,000
6th position – Rs 16,000
7th position – Rs 14,000
8th position – Rs 12,000
9th position – Rs 10,000
10th position – Rs 8,000
A knockout tournament will be played simultaneously with the U15 League during the season. Matches for the knockout tournament will be of 90 minutes duration. All ten teams of the league will take part in the knockout tournament. The champions will be awarded with a cash prize of Rs 10,000 and the runners-up will win Rs. 7,000, while the semi-finalists will get Rs. 4,000 each.