Everton
'Might as well have a kick about with the kids in the garden' - Everton slated for pointless 22-0 friendly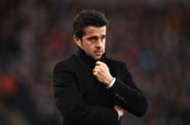 Everton won 22-0 in their first pre-season friendly under Marco Silva, but were widely criticised for wasting time and energy playing against such lowly opponents.
ATV Irding play in the seventh tier of Austrian football, the Oberliga Nord, but were no match for the Premier League club who saw four separate players score hat-tricks.
Four first-half goals from Turkey international Cenk Tosun had the Toffees 10-0 up at half-time, with Kevin Mirallas scoring give times after the break.
Oumar Niasse and Adeloma Lookman also bagged hat-tricks, but in the end, ATV had given up with five goals coming in the last 10 minutes, including a terrible own goal.
At one stage during the second-half, the scoreline became so ridiculous that Irding were unable to update the score correctly as they did not have the number '21' available, so merely displayed the score as '2-1' on the scoreboard.
The level of opponent was criticised by fans and media on Twitter, with some even questioning what was the point in the Toffees travelling to Austria for a pointless friendly, while others questioned whether they had played the game on FIFA's amateur difficulty level.
Everton just beat up a team 22-0.

They are from a town of 2700 people, have no Wikipedia page, and their biggest digital footprint is a Facebook page with 113 likes that didn't even post about playing a Premier League team.

What kind of insane Football Manager save are we in? https://t.co/wyvasjPUWc

— Zack Goldman (@ThatDamnYank) July 14, 2018
For those thinking Everton had a good result... here is how the other team player. Disgrace pic.twitter.com/4gMeoGlQ01

— Callum Wright (@CallumWright__) July 14, 2018
What a waste of a preseason friendly, might as well have a kick about with their kids in the garden.

— ʂɧauⁿ (@MrAubameyang) July 14, 2018
19-0, and what a way to do it pic.twitter.com/By8hOwgeYj

— Adam Hurrey (@FootballCliches) July 14, 2018
Both teams attacking the same goal. Score makes sense now.

— Kemlyn Hughes (@David_Gill78) July 14, 2018
Everton are 8:0 up in their preseason game versus ATV Irding. Am I the only one who finds it a bit odd the Blues have travelled to Austria to play a team in the Oberliga Nord (7th tier of Austrian football)? Not sure what they'll get from that match.

— Chris Williams (@Chris78Williams) July 14, 2018
Everton have won 0-22 in their pre season friendly against Austrian opposition, ATV Irdning 😱

Their ground has a capacity of 750..😳

Seems like a decent test for them anyway 🤔 pic.twitter.com/I0jGwn5U7s

— Footy Accumulators (@FootyAccums) July 14, 2018
F/T: ATV Irdning 0 - 22 Everton pic.twitter.com/nQUWBMqCeC

— GrandOldTeam (@grandoldteam) July 14, 2018
Meanwhile in pre season Everton win 22-0 against a bunch of farmers pic.twitter.com/B7f0OszqYH

— Deluded Brendan (@DeludedBrendan) July 14, 2018
Everton goals scored under their last two managers:

Sam Allardyce - 27 goals (24 games)
Marco Silva - 22 goals (90 minutes)

School of Science, it's on its way back. pic.twitter.com/ZZYZYm0q8o

— Jœl (@Joelissimmo) July 14, 2018
Everton return to England to play against Bury at Gigg Lane on July 18 as they continue their pre-season campaign.