Akwa United
Michael Ibeh credits Maikaba for Akwa United U-turn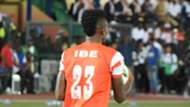 Akwa United striker, Michael Ibeh reveals that a showdown talk with Abdu Maikaba changed his decision to leave the Uyo side, as he sought regular football.
Ibeh, unhappy with his role as a squad member last season, was ready to join another club but says discussion with coach Maikaba - who assured him of a future with the Promise Keepers - changed his mind.
"I am happy that everything is working out god for me. I have scored couple of goals in the pre-season games we have played and I have been told that I will play more games than I did last season," Ibeh told Goal.
"Initially, I thought of leaving for another club but I had a discussion with our coach and he assured me that all is well and that I am part of his plans. I see it as a sign of good things to come. I was playing more regularly at the start of last season but the injury I sustained later on and the time I spent on the sideline drew me back.
"By the time I resumed with the club after the injury I noticed that I had lost my place in the team and I was not happy with myself at all. It was the reason why I sought to speak with the coach to see if he still wants me to stay or to seek another place where I will play more regularly if I am in form.
"The discussion went well and looking through his eyes I could depict that he was telling the truth. So, I decided against leaving."
The former Abia Warriors' striker says he is now poised to help Akwa United defend the Federation Cup trophy and also to ensure that they better their 2016-17 Nigeria Professiona Football League finish.
"We will also like to defend the Federation Cup we won this year and it is our objective to finish higher than fourth of last season," he said.
"The signs are there and with our coach I know that we can attain all the goals that we have put before ourselves."