Mexico
Mexico drops final friendly in uninspiring fashion, but emerges without new injuries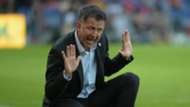 Mexico fell to Denmark in its final preparation match before the World Cup. El Tri's display in Copenhagen won't do much to change the minds of a fan base that already has serious concerns about the team's ability to progress out of Group F.
The good news is the whole team escaped pretty much unscathed. With Diego Reyes out of the squad Saturday and looking less and less likely to make it onto the field in Russia, Mexico can't afford more players at less than 100 percent.
There were scares. Andres Guardado, playing for the first time since a procedure after the La Liga season, took a hard knock in his upper leg that kept him on the ground for a bit. Jesus "Tecatito" Corona was holding his elbow in the first half and eventually left with an ankle knock in the second.
El Tri manager Juan Carlos Osorio often frets about injuries. He has pointed to Reyes and Carlos Salcedo having to pull out of last year's Confederations Cup as a major reason for Mexico finishing fourth instead of higher. Guardao and Hector Moreno had to start to get a bit of rhythm ahead of the tournament.
Those players played the first half and then were onto the bench in bubble wrap. Hirving Lozano and Javier "Chicharito" Hernandez saw time as well with players like Carlos Vela and Raul Jimenez not coming in at all to face the Danes.
From the starting lineup, you could tell Osorio was hoping to keep his squad fit rather than do as many other managers do and play the strongest team possible in the final game before the tournament. Oribe Peralta is not going to start against Germany next week, yet there he was up top. Once again, he failed to finish off any chances. While he struggled to score, Mexico's stars rested and travel to Russia at full fitness, with the exception of Reyes.
The bad news? The result, for one. The first goal, from Yussuf Poulsen, was the type of goal where you shrug and say you probably couldn't have done much to stop it. The second goal, when Christian Eriksen caught Rafa Marquez, Salcedo and Jesus Gallardo asleep on a corner kick to cap off the win.
Even with a patchwork unit at the back with Rafa Marquez potentially coming in and adding more deficiencies, the concern is shifting from the back to the front. Mexico scored once in three preparation matches, with Giovani dos Santos' goal against Scotland the only move finished despite several chances created.
With players like Chicharito, Lozano and Vela, you'd expect for that to sort itself out. Still, it was a surprise that unit wasn't given a chance to work together, with it entirely possible that trio starts together against Germany or in another of the group matches. It was Tecatito who looked the most interested in scoring, with Giovani dos Santos getting a start for a second consecutive match.
Those players also will play a part in the World Cup, but how big of a role they will play is unclear. What Osorio cares about from Saturday's 'exercise', as he often calls friendly matches, is at the end of it he still has all those players to choose from.
The performances from those players as well as the manager's selections will have to improve for Mexican fans to once again have confidence in their team. Of course, by that point the results will matter.
Mexico has to be relieved to be headed to Russia. It's been a tumultous build-up period between injuries, the party several players attended that got picked up by the press, the poor performance Saturday and being booed at the Estadio Azteca in last week's win. None of that matters now. All that matters is what the team does against Germany eight days from now. Let the tournament begin.