Hirving Lozano
Mexicans Abroad Minute: Lozano, Guardado score, Layun makes a move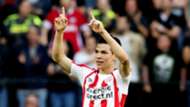 It was a busy week for Mexicans playing in Europe with a pair of players set to star in Russia finding the back of the net and other likely El Tri starter making a big move 
It took just four minutes for Hirving Lozano to find the back of the net. The 21-year-old helped PSV to a 2-0 win over FC Twente and moved back atop the Eredivisie top scorer list. He now has 12 goals this season, tied with Feyeonord winger Steven Berghuis. It was PSV's second match from the winter break, and the Eindhoven side extended its lead atop the table with second-place Ajax settling for a draw.
His Mexico teammate Andres Guardado also found the back of the net, but it was a more frustrating outing for his team. Guardado's goal came in stoppage time from the penalty spot and wasn't enough for Betis to overturn the tide against Celta de Vigo. Betis fell 3-2, its second consecutive defeat in La Liga play.
Miguel Layun will hope to find his name in this feature more often, and he now has the opportunity to do so. Layun completed a loan move to Sevilla earlier this week with the La Liga side having an option to buy his rights from Porto after the end of the seasons. Layun played more minutes for the Mexico national team from the 2017 Confederations Cup on than he did with Porto in league play during the 2017-18 season. Earning minutes with Sevilla should help him arrive in Russia in top form. He was rumored to join Guardado with Real Betis, but now will be playing for his crosstown rival.
Check out the latest edition of Mexicans Abroad Minute, Goal's weekly feature taking just 60 seconds to look at how Mexicans in Europe are performing, by clicking play on the video above.