World Cup
'Messi is not Maradona' - Why Leo can't win the World Cup all alone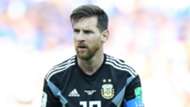 The hopes of a nation rest upon the shoulders of Lionel Messi. When the Argentina squad boarded their bus to the airport after nine days of training in Barcelona before heading to Russia, one fan shouted: "Leo, bring back the cup!"
And when the Albiceleste bus pulled into the team hotel in Nizhny Novgorod on Wednesday ahead of the team's second group game against Croatia, all of the supporters' songs were about Messi. "By the hand of Leo Messi, we're going to take a victory lap," they sang.
In 1986, Messi had not yet been born, but it was another hand that helped Argentina to World Cup glory: the hand of one Diego Maradona or, as he himself infamously said, the "Hand of God".
Maradona's two goals against England in the quarter-finals both earned legend status – the first one for his clear handball which went unnoticed by the match officials (there was no VAR back then); and the second because it is still considered by most to be the best ever at a World Cup.
Diego went on to lead Argentina to the trophy itself. After his double against England, he hit two more super strikes in the semi-final win over Belgium and provided the assist for Jorge Burruchaga to net the winner in a 3-2 final victory over West Germany. 
Nevertheless, Maradona did not win the World Cup all alone. Argentina's team featured several superb players including Jorge Valdano, Oscar Ruggeri and Burruchaga, while coach Carlos Bilardo devised an innovative – at that time – defensive plan with three centre-backs which was easily adapted to a five-man rearguard when necessary. It is similar to the strategy Jorge Sampaoli will employ against Croatia, with Eduardo Salvio and Marcos Acuna out wide and Messi reprising Maradona's 1986 role playing just off sole centre-forward Sergio Aguero. 
In a tournament featuring a number of strong sides but perhaps not one oustanding team, it was enough. Maradona, far and away the finest footballer in the competition, was the difference between Argentina and the rest.
However, he still needed Burruchaga (plus Jose Luis Brown and Valdano) to convert in order to lift the famous trophy at the Azteca Stadium in Mexico City. Had Messi's team-mates done similar in the 2014 final against Germany at the Maracana, he too may have been a World Cup winner. Fine lines.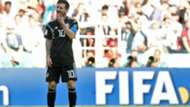 Maradona in 1986 may have been the most famous footballer in the world, yet rival coaches did not have access to all of his games as they do now with Messi. Back then, even Bilardo had to travel to Europe to watch the forward in action in Barcelona and then at Napoli.
In 2018 all of Messi's matches are available at the flick of a television switch or even online, his every move meticulously studied. And even though it is impossible to stop him sometimes, coaches can prepare better than they were able to in Maradona's day. That takes away something of a surprise element.
Football has also evolved tactically and physically since 1986. Back then, a team with one wonderful player was perhaps better equipped to succeed than now. These days, there is much emphasis on pressing and when a player like Messi is not sufficiently helped by his team-mates, he can be crowded out.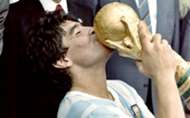 That has happened at Barcelona, away to Roma in the Champions League last season for example, while it has also occurred more often than not during the forward's career with Argentina.
At Barca, Messi has been given the conditions to produce his breathtaking best and lead the Catalan club to great heights – especially during Pep Guardiola's spell in charge between 2008 and 2012, less so since the departure of Xavi and later Neymar.
With Argentina, however, that has not really been the case and even before taking the job, current coach Jorge Sampaoli spoke of the need to take care of the country's star player and replicate the environment in which he thrives at Barcelona.
However, he is still trying to find that balance and after Messi missed a penalty and Argentina drew 1-1 in their World Cup opener against Iceland on Saturday, there was yet more doom and gloom from fans and the media in his homeland.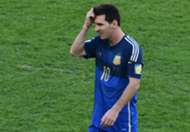 Maradona, though, stuck up for the Argentina captain. "I missed five penalties in a row and I was still Diego Armando Maradona," he said. "The game and the two points lost by the team are not down to his penalty. He showed his face and gave everything he had to give. The 'kid' did his duty."
Another former Argentina great, striker Hernan Crespo, was more critical. "Messi deserves a five [out of 10 for his performance]," he said. "Of course, we expect more from him, but Messi is not Maradona, alone he does not win a World Cup.
"This must be understood first by all Argentines, and then by his team-mates. He is a phenomenon if he is put in the right conditions, like in Barcelona. Otherwise he is struggling."
However, even Crespo admitted that Messi had not been aided by his team-mates. "Tell me, he said. "Who helped him against Iceland? [Angel] Di Maria did not get past his opponent once, the midfielders did not support him."
And that is key. While there is a common conception that Maradona won the World Cup all alone, it is not really true. The movement and link-up play of Burruchaga and Valdano in particular in 1986 (and Claudio Caniggia in 1990) were key to Diego's success in those two tournaments.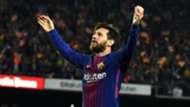 History has a knack of romanticising past glories and while there is no getting away from Maradona's magnificence, even he did not do it all alone. And the idea that he was a leader and Messi is not is also unfair. Leaders come in different shapes and sizes; some are vocal and others are quiet. But Leo leads Argentina now, as Diego did in 1986.
It is a popular narrative among fans and former footballers from that era is to consider that Maradona is the superior player. After all, he won the World Cup with perhaps the greatest individual performance over a single tournament. But Messi, as Valdano once said, "is Maradona in 1986 every day".
The Barca forward also found support from a surprise source on Wednesday in the build-up to his side's crunch clash with Croatia as Sergio Ramos said: "In Argentina everyone knows that Maradona is light years away from being the best Argentine player in history, which for me is Leo Messi."
Although it was meant as a prickly response to Maradona's remarks that the defender was not a 'crack' (top player) on Tuesday, Ramos is correct in his assessment that Messi is superior. Just don't expect him to win the World Cup all alone. Not that Diego did anyway...