Argentina
'Messi can't score against a movie director!' - Argentina superstar's woeful penalty record continues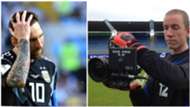 Lionel Messi may be one of the best footballers to ever lace up a pair of boots, but his woeful penalty record continued in Argentina 's clash with Iceland.
The Barcelona superstar stepped up after Sergio Aguero was fouled in the penalty area, with the scores locked level at 1-1.
However, Messi's penalty was poor, with Hannes por Halldorsson able to palm his effort away.
And, naturally, that led to something resembling a social media meltdown, with many quick to point out that Messi's eternal rival, Cristiano Ronaldo, scored from 12 yards in Portugal's pulsating 3-3 draw with Spain on Friday.
Messi-Ronaldo debate will go on eternally, but I think in last 24 hours, God has weighed in which side of the argument she favors pic.twitter.com/ui1cXx2rp1

— roger bennett (@rogbennett) June 16, 2018
Ronaldo beats the best goalkeeper in the world with a free kick and Messi can't beat a film director with a penalty 😂😂😂😂

— Josh 🏴󠁧󠁢󠁥󠁮󠁧󠁿 (@Joshtrich1) June 16, 2018
A picture of Messi holding Cristiano Ronaldo.

Had to do it😂😂 #ARGISL pic.twitter.com/QjfFLUrBrX

— Maartial🔴 (@MaarMufc) June 16, 2018
Lionel Missi! 😯 #ARG

— Robin Bairner (@RBairner) June 16, 2018
4 - Lionel Messi has missed four of the last seven penalties that he has taken for Barcelona & Argentina combined (57%). Woe. #ARGISL #ARG #WorldCup pic.twitter.com/O0K8SlhMvw

— OptaJoe (@OptaJoe) June 16, 2018
Messi misses a penalty!! 🤦🏻‍♂️ #Arg #WorldCup #Isl pic.twitter.com/AKDYq3Aze8

— The F2 (@TheF2) June 16, 2018
Yesterday:

Cristiano Ronaldo scores a hattrick.

Today:

Lionel Messi misses a penalty. #Ronaldo #POR #ARGISL #WorldCup #Messi #ARG pic.twitter.com/oNkdCaavHT

— #WorldCup 🏆 (@TheSporTalk) June 16, 2018
Messi and his Argentina team-mates could not breach the Icelandic defensive wall for the remainder of the game, either, and were forced to settle for a point from their opening game of the tournament.