Lionel Messi
'Messi can win a game in half a second' - Gago hails genius of Barcelona talisman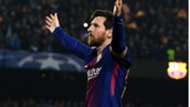 Barcelona talisman Lionel Messi is capable of winning a game "in half a second", according to Argentina team-mate Fernando Gago.
The mercurial 30-year-old was at his brilliant best once again on Wednesday, with a deadly double against Chelsea securing Champions League progress and taking him to 100 goals in the competition.
That is just the latest on a long list of landmarks to have been reached by a five-time Ballon d'Or winner.
He will be hoping that there are more to come as well, with a World Cup crown a notable omission from the most glittering of CVs.
Gago may find himself operating alongside Messi in pursuit of global glory this summer, and the Boca Juniors midfielder admits the Barca superstar breeds confidence in those around him.
He told Marca: "We know that he has the ability to win a match in half a second and that gives you peace of mind," he said.
"In every game I have the feeling that he can make us win at any time. Messi's way of leading is with the ball, sometimes a glance is enough.
"He has an incredible personality, he understands the game perfectly, he has fought for 14 years to be the best without letting himself down, and that shows how he is.
"He is the best I have seen in my life, without a doubt."
Gago will have to prove his fitness if he is to make the Argentina squad heading to Russia, with the 31-year-old having suffered an unfortunate cruciate ligament injury during qualifying in October 2017.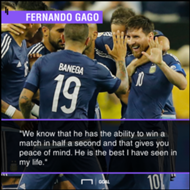 If he is to make a full recovery, then a man who has graced the books at Real Madrid and drawn comparisons with Fernando Redondo in the past can be expected to make the cut.
Gago added on the European experiences of his past which were not heralded at the time but have helped to make him the player he is today: "[Real Madrid] made me a man.
"I went there to live alone and I had other responsibilities, especially that of wearing the shirt of one of the biggest teams.
"I have no resemblance to Fernando [Redondo] and that was for the journalists and not me. He is my idol but there was never a possible comparison.
"The issue is that we always stay with the last impression in Madrid, when I lost my place due to an injury.
"However I played more than 100 games, I won two leagues and a Copa del Rey."