Real Madrid
Messi backs Modric, Ronaldo opts for Varane - FIFA reveals The Best votes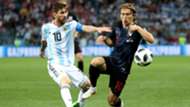 Barcelona star Lionel Messi recognised Luka Modric as 2018's best player in the voting for FIFA's The Best awards, the federation has confirmed.
The pair have been rivals for years in La Liga, and also clashed in this year's World Cup when Argentina and Croatia faced off in Group D. 
Modric came off the better in that encounter, inspiring a crushing 3-0 victory for Croatia that included a stunning long-range effort from the Real Madrid midfielder. 
But Messi showed there were no hard feelings as he picked the World Cup finalist and The Best winner as his top player of 2018. 
Kylian Mbappe, another player who made Messi and Argentina suffer in Russia, was Messi's second choice, with Cristiano Ronaldo taking third. 
Curiously, the Argentine overlooked his Barca team-mates in the top three, while Ronaldo picked two former companions from Real Madrid. 
Raphael Varane was Ronaldo's top pick, followed by Modric and Atletico Madrid sharpshooter Antoine Griezmann. 
Varane also received the backing of Modric, who mirrored Cristiano's selections by placing him in second followed by Griezmann. 
Griezmann, who has attracted criticism in some quarters recently by placing himself alongside the likes of Messi and Ronaldo, did at least win the backing of one international captain: Uruguay skipper and Atletico team-mate Diego Godin. 
Among the coaches, interim Argentina boss Lionel Scaloni plumped for Messi, while Brazil's Tite overlooked local hero Neymar in favour of Modric, Mohamed Salah and Ronaldo. 
There were even a couple of nominations for World Cup Golden Boot winner Harry Kane, who won the approval of Bahamas coach Dion Godet and Chinese Taipei's Gary White, though Kane himself voted for Ronaldo first, Messi second and Premier League rival Kevin De Bruyne third.
You can check all the votes from captains, coaches and media via the FIFA website.