World Cup
Mensah reflects on Ghana's 2014 World Cup campaign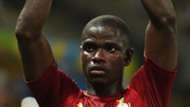 Having had to watch this summer's World Cup from home, Ghana international Jonathan Mensah has taken a trip down memory lane to the 2014 edition in Brazil where he lined up for the Black Stars. 
In their worst World Cup campaign, the four-time African champions failed to go pass the group stage for the first time ever, amid series off-pitch issues. 
They were in Group G, together with the USA, eventual champions Germany and Portugal. 
"We were one of the groups in the Group of Death. Yeah — Germany, Portugal, USA, Ghana — and because of what we did in the last World Cup people were also kind of like 'Ghana is a good team, so you don't have to take them lightly'", Columbus Crew defender Mensah told the club's official website. 
"We went into the tournament and we were confident I would say. 
"Our first World Cup was in Germany and we did well, our second we did very well and now our third one is like 'Oh yeah, we are gonna go through even though it is a tough group'. 
"But then you know it didn't go as planned. It was heartbreaking for us not to make it out of the group stage."
Ghana opened their campaign with a 2-1 defeat to the US, held Germany to a 2-2 draw before falling 2-1 to Portugal. 
The results left the Black Stars bottom of the group, effectively ending their adventure. 
"The rivalry game against the USA happened again in Brazil so three consecutive World Cups we have played the United States," Mensah continued.
"That was the first game and we were very hyped for that game. We lost 2-1 and it was a rivalry game so you have to go out strong, but we started very slowly and we paid for that. 
"But that was over and we moved on to Germany. They were one of the teams tipped to win the World Cup and it was a great game. 
"It was one of the most exciting games in the World Cup as the stats say. 
"From that game to - I think playing against the Portuguese team - we were done already."