Premier League
Memories of Manchester United misery as Moyes drags Sunderland into Premier League abyss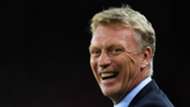 Despite David Moyes' best efforts to inadvertently get himself fired over seemingly threatening "slap" comments towards a female reporter, Sunderland still find themselves chained to the Scot as they prepare to face his former club Manchester United on Sunday.
Moyes has since apologised saying he "deeply regrets" telling BBC reporter Vicki Sparks "you still might get a slap even though you're a woman... careful next time you come in", while the club have reiterated their support for a manager who has won just five games this season.
Sunderland back Moyes in slap storm
Performances on the pitch have been awful enough. Sunderland play with a complete lack of organisation, and also have one of the very worst squads ever to play in the Premier League – and the Black Cats appear to have missed a golden opportunity to sack their manager.
With a game against United looming, Sunderland should have sacked Moyes earlier this week, installed a caretaker and allowed the players to reboot ahead of the last eight games of the season.
But, as Manchester United fans are well aware, Moyes is a hard monkey to shake off one's back.
United went from first to seventh under Moyes, and he repeatedly baffled with decisions both on the pitch and in the transfer market. He has repeated the same mistakes at Sunderland, but they have no world-class players to speak of, no Old Trafford to lean on, no £100 million transfer kitty.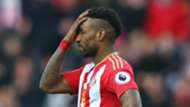 There is no Wayne Rooney, newly committed to the cause, no Robin van Persie, no Juan Mata. At Sunderland there are 22 bang-average players and Jermain Defoe, who's going through a barren spell of his own.
Sunderland are rock bottom - they have 20 points from 30 games, and a goal difference of minus 29. They are, quite simply, an abomination. To watch Sunderland play is to bring back memories of the truly terrible Derby County team that accrued just 11 points throughout a thoroughly depressing season.
'Moyes can't get away with sexist threats'
Their victories have been clustered too. Four of their five wins came in November and December, but they had to wait until the 11th game of the season to record their first victory, a 2-1 win over AFC Bournemouth.
It is baffling that Sunderland opted against dismissing Moyes. At a base level – and this is not to ignore or excuse his behaviour – he has not been winning football matches, and he has not managed to do it in the last two Premier League jobs that he has held.
United waited too long, eventually pulling the trigger on April 22, following an anaemic 2-0 loss to Everton - coincidentally the only successful former club that Moyes has ever managed.
Ryan Giggs took over as interim manager for the last four games of the season but he could not take the club above Tottenham, who qualified for the Europa League by virtue of a sixth-placed finish. United subsequently missed out on European football, but they were able to regroup and go again under the similarly ill-fated Louis van Gaal.
Wenger insists Alexis wants Arsenal stays
With eight games of the season remaining, including trips to Arsenal and Chelsea, Sunderland stand next-to-no chance of survival. With 10 points separating them from 17th-placed Hull, the Black Cats need a miracle between now and May.
Sunderland could have treated this period of the season as a hard reset. The perfect opportunity to do away with Moyes presented itself in the form of his on-camera outburst, which they comfortably could've argued was a sackable offence. Now they are stuck and they are doomed.
After their willingness to back Moyes, few will argue that the board deserve relegation, but it is the fans who will suffer and they deserve much better. So does this once-great football club. With Moyes at the helm, however, they are likely to slip further and further down the ladder.