UEFA Champions League
Meet the Real Madrid-Bayern referee who has been involved in big controversy before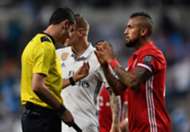 The referee who allowed Cristiano Ronaldo's two extra-time goals to stand, Viktor Kassai, desperately needed video technology to rescue his assistant referee's questionable decision-making in Tuesday's clash between Real Madrid and Bayern Munich.
The Champions League quarter-final, which Real Madrid won 6-3 on aggregate after extra-time in the second leg at the Santiago Bernabeu, saw two clear Ronaldo offsides missed by the linesmen.
Ronaldo's offside goals spark football fury
Former Bayern Munich midfielder Owen Hargreaves was utterly baffled by the continued lack of replays that would allow referees to amend erroneous moments of officiating in elite football matches.
"Why do we not have technology in football? It is unacceptable," the Englisman told BT Sport. "To have that many decisions go wrong at this magnitude. This game was decided by the referees."
But who is the man that Bayern can point the finger of blame at for seeing them exit the competition at the last-eight stage, and allow Real Madrid to reach the semi-finals for a seventh successive season in extremely controversial circumstances?
---
WHO IS VIKTOR KASSAI?
---
Back in 2012, with Hungarian football seemingly in a state of decline for decades, Kassai, along with his officiating team, were his nation's sole representatives at the European Championship. Gone were the days of the Magical Magyars, yet, in Kassai, the central-European nation had produced someone who could grace the pitch with genuine class.
Madrid win re-opens technology debate
Born in the north-western city of Tatabanya in 1975, it wasn't long before Kassai delved into the world of officiating. In June 1990, at only 14 years of age, he passed his refereeing exams and just three years later he was taking charge if matches in Hungary's fourth tier.
The young official impressed instantly and at the age of 23 became the youngest-ever man to referee a game in his nation's top flight between Zalaegerszeg and BVSC. The sales manager was soon gaining international recognition and appeared as a fourth official at Euro 2008, before flying to the Olympics in Beijing later that summer where he refereed several fixtures, including the final between Argentina and Nigeria.
His reputation continued to flourish as he was chosen as an official for World Cup 2010 where, after impressing in the group stages, he was given the task of taking charge of the semi-final between eventual-champions Spain and Germany.
The 41-year-old was handed his biggest game to date in May 2011: the Champions League final between Barcelona and Manchester United at Wembley. Speaking before the game to UEFA, the official, who is fluent in both English and German, expressed his delight.
"It's a very big honour for me and for my team, because it's very important that the referee is not alone in officiating the match. We have a team of seven officials and we'll do our best." 
"Of course we're proud; after Karoly Palotai did the final twice, the last [Hungarian], Sandor Puhl, was 14 years ago. It's a very, very big honour and a pleasure for us to continue this legendary level of Hungarian referees. All of us are very very proud, but it's also a responsibility to continue their good work."
His performance in the competition's showpiece event was typical of his style as he let the game flow yet made the players aware of his presence by distributing four cautions in total. Impressively, Kassai is the youngest man to referee the final of Europe's elite club competition to date, and, perhaps only until April 18th of this year, continued to be recognised as an officiating trailblazer.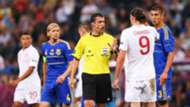 The highly-rated referee had not been immune from bouts of controversy though. In November 2010, taking charge of Sporting Braga versus Arsenal in the Champions League group stages, Kassai refused to award what appeared to be a stonewall penalty to the Gunners with the match tied at 0-0. Instead, the official chose to caution the Gunners' Carlos Vela for a dive. The Portuguese side would go on to win 2-0 thanks to a late double from Matheus, with Arsene Wenger labelling Kassai's decision a "complete mystery".
The fact that an incident from 18 months prior to Euro 2012 was the only real controversial moment in Kassai's refereeing career spoke volumes. His ability to command respect from players despite his tender years, combined with possessing the talent to aid a game's flow by refusing to hand out yellow cards as if they're going out of fashion, had made him very popular among his colleagues. 
It was at that tournament, however, that Kassai came in for his second spell of controversy. Whilst overseeing England vs Ukraine, a strike from the Eastern European side was hoofed away at the last moment, only for television replays to show that the ball had gone over the line. Given this was the first incarnation of a big event utilising goal-line referees, a debate over the introduction of technology kicked off once again - even the much-maligned Sepp Blatter said it was now "a necessity".
Ronaldo & referees to Madrid's rescue
Fast forward to present day and the debate has well and truly re-opened again. No less than four enormous calls were made incorrectly to allow Real Madrid safe passage into the Champions League semi-finals - including two goals scored by Ronaldo which saw him become the tournament's first player to 100 goals.
Maybe the occasion got to him. Maybe he was poorly positioned for each of the calls – maybe his officiating team were, too. Regardless, people make mistakes; even ones as revered amongst his peers as Viktor Kassai.
Which leaves us with only one question: how long until these mistakes, made by even the best officials in the game, are eradicated by the introduction of technology?
Bayern Munich, one of top European football teams of all time, will say it should have been before April 18, 2017.