Barcelona
'Maybe he has personal problems' - Barcelona should help Dembele, says Edmilson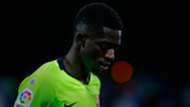 Ousmane Dembele needs to start taking advantage of the opportunities he has been given, according to former Barcelona star Edmilson, who feels the club should also offer their support.
The Frenchman has struggled recently at Barcelona amid concerns over his attitude and he was dropped by Ernesto Valverde for the recent defeat by Real Betis .
He is also being sued for €20,000 by his former landlord over unpaid rent and the state in which he left his apartment when he moved from Borussia Dortmund to Barca in 2017, while team-mate Luis Suarez has urged Dembele to be 'more serious' .
Edmilson sympathises with Dembele, though, recognising that he is only young and his problems may stem from something deeper.
"Dembele is a young player who is obviously still struggling to get used to the life of a real football professional," Edmilson told Goal .
"But I hope for him that he finally wakes up and takes advantage of the opportunities that life offers him.
"I think that also the club is required to help him. Sometimes, such behaviours have very personal reasons. Maybe the player has private problems. These problems can often only be solved by people who are close to him."
Edmilson also addressed the pressures Dembele faces on the pitch, saying that his failure to adapt to Barcelona's style is preventing him from playing to his full potential.
"For me it's more a question of style of play," he added.
"You can be as individual as you are: if you really want to be successful at Barca, you have to adapt to the style of play.
However, Edmilson acknowledged that other players have not encountered the same difficulty in embedding in the squad, having been particularly impressed with his compatriot Arthur, giving him the highest praise possible by comparing him to club legend Xavi.
"Let me give you a good example: Arthur, a young, inexperienced Brazilian in Europe, has only been in the club since this summer, but has settled in well. Why? Because he adapted very well to the style of play. He reminds me a bit of Xavi."
Dembele and co face off against PSV next week and Edmilson has been talking up Barcelona's chances of lifting the Champions League this season.
"Barca is, of course, always one of the favourites in the Champions League, but this competition is very balanced. From the round of 16 it will be difficult for any big team."