A-League
Matt Ridenton ready to rise with Newcastle Jets after reuniting with Ernie Merrick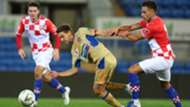 In 2013, a 17-year-old Matt Ridenton was handed his first professional football contract by then Wellington Phoenix coach Ernie Merrick.
Five years later and the pair will once again link up with Merrick playing a key part in convincing Ridenton to leave his native New Zealand and join Newcastle Jets.
After five seasons with the Phoenix, Ridenton has largely flown under the A-League radar but has been a consistent bright spot for the club over a turbulent few years.
The now 22-year-old midfielder will always be grateful for the chances he got in Wellington but felt the time was right to move on. 
"Wellington was great, got my first professional contract there actually under Ernie and obviously had a few different managers over the last few years, but I learnt a lot there and grew a lot as a person on and off the pitch," Ridenton told Goal.
"Really enjoyed my time there, but just felt the time was right now to try a new challenge."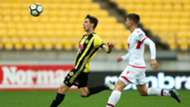 That challenge is a high-flying Jets side that turned a few troubled seasons around in their last campaign to finish second before losing the grand final to Melbourne Victory.
Merrick was a key part of the club's change of fortunes with Ridenton eager to play an attacking brand of football under his former coach.
"It made the decision easier because you know what sort of environment you're going into and the football that Ernie likes to play it's obviously very attacking…I think that'll suit how I play," he said. 
"To play under him again was always going to make the transition a bit easier. He really encourages you on the ball, to always look forward and play forward when you can.
"I think he always get the best out of his players as you saw last year with the team in the attacking third and that's an area of my game I want to develop - to score more goals and hopefully go forward more this season. 
"The Jets had a really good season last year which is very positive for the club and moving forward they've got a lot of growth to come and I'm just happy to be a part of it."
While preferring a central midfield role, Ridenton has already had his versatility tested in pre-season with the Jets after being deployed on the left wing and as a number 10.
Despite leaving New Zealand behind, the All Whites remain firmly on Ridenton's mind having made his international debut as an 18-year-old and currently has four appearances to his name. 
"Growing up as a New Zealander that's one of your highest goals as a footballer," he said.
"Don't think I've established myself just yet at international level and that's another goal of mine to become more regular in the national team.
"Now that it's in a new World Cup cycle, I'm really looking to make my mark in the national team as well."