Simba
Singida United vs Simba: Preview, Injury and suspensions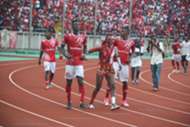 Simba are all set to play Singida United with their Premier League title in the bag. This is after Yanga were defeated 2-0 by Tanzania Prison on Thursday.
The Wekundu wa Msimbazi are now chasing the unbeaten record which they also managed in the 2009-10 season under Zambian coach Kina Phiri.
Singida United were beaten 4-0 in the reverse fixture back in November and will be keen for a revenge in this match.
With nothing to lose, Simba have to avoid defeat in their remaining three matches in order to set another record in the land.
Ahead of the match against Singida United, all players are in good spirit according to their spokesman, Hajji Manara.
Speaking in the press conference in Dar es Salaam before departing to Singida, Manara said that they are all happy with the title but they will keep fighting until the end of the season.
"We are very happy, all we want to do now is to try to avoid defeat in the remaining matches in order to set another unbeaten record in the land," said Manara.
Simba player Shiza Kichuya thought the same as he suggested that they will keep fighting until the end even though they have secured the title.
Pierre Lechantre has said that he has all players available ahead of the match something which gives him a dilemma in selection.
"I have all my squad available, it is good for the coach but bad in terms of team selection because everyone wants to play, said Lechantre.
 FA Cup finalists Singida United will be without their key midfielder Tafadzwa Kutinyu who was banned for three matches last month.