Arsène Wenger
Martinez backs Wenger and vows to stay at Arsenal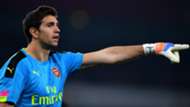 ---
EXCLUSIVE
---
Arsenal goalkeeper Emiliano Martinez has hailed manager Arsene Wenger and insisted he is happy to stay with the Gunners.
The 24-year-old Argentine is seen as third choice at the Emirates Stadium, with vastly experienced duo Petr Cech and David Ospina ahead of him in the pecking order.
Premier League Team of the Week
Wenger has put faith in the former Independiente youngster this season, though, using Martinez in the EFL Cup, with the Gunners eventually being knocked out by Southampton in the quarter-final.
Martinez was rewarded with a new six-year contract back in November 2016 and, despite the pressure surrounding Wenger and his future, the goalkeeper has nothing but praise for the Gunners boss.
He told Goal: "It's amazing that Arsene Wenger, one of the best coaches in the world, believes I'm the future of Arsenal. Just as amazing as having my contract renewed for six more years at the club.
"Wenger is very well-respected. He's not only the head coach here, he also built Arsenal. He helped buy the stadium.
"Everybody calls him 'boss', from the kit manager to the owner of the club. He seems distant, but he's always available to talk. It's impressive.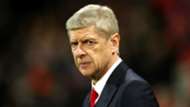 "Cech is a great goalkeeper, he has a lot of stories, he's in the top 10 in the world. We get along, he also says I'm the future of the club.
"Also Ospina, he's such a professional! He's a great guy and friend. I usually have dinner at his house, and I learn a lot from him.
Wenger: Ozil lacking confidence
"It's an honour that the coach gives me the possibility to be the goalkeeper in a tournament [the EFL Cup], when he has those two."
"Why would I play anywhere else when I'm a goalkeeper at Arsenal? What's more, having Wenger say that I'm the future [means a lot].
"I may leave when I'm older. I was offered to go to other teams in England and Spain, but Arsenal wouldn't let me go. They want me here and I want to stay."