Marco Silva is working miracles at Hull & proving pundits wrong
---
COMMENT
---
Marco Silva has proven a fair few pundits wrong since taking over as Hull City manager in January.
Premier League Team of the Week
Appointed as a virtual unknown in a day and age where information is but a click away, Silva has transformed the Tigers from relegation certainties into a team with genuine hope of playing in the top flight next season.
With a match against Sunderland looming – the Black Cats are already down, and are one of the very worst teams ever to play in the division – Hull can potentially move six points clear of 17th-placed Swansea City on Saturday.
This after Paul Merson and Phil Thompson denigrated the club for taking a punt on a manager who has won trophies at every foreign club he has worked with; Estoril, Olympiacos and Sporting Lisbon.
"I could win the league with Olympiacos. I am not even joking. They've won it 107 times and it's only been going 106 years. 44, 43 times they've won it," Merson scoffed on Sky's Soccer Saturday.
"You know this is a good job as well, Hull are a good team, it's a great stadium, some very good players you know and… what does he know about Hull? What does he know about the Premier League? What does he know?"
Thompson, his supposedly learned colleague, added: "It is quite astonishing that they have plumped for someone like this. I totally agree, it is baffling when there are a lot of people out there who know about the Premier League, know what's required to dig in. He's not got a clue. He's [received] manna from heaven to be given this job on his CV."
These two men were paid to give their opinions about Silva, but they have been quite spectacularly upstaged.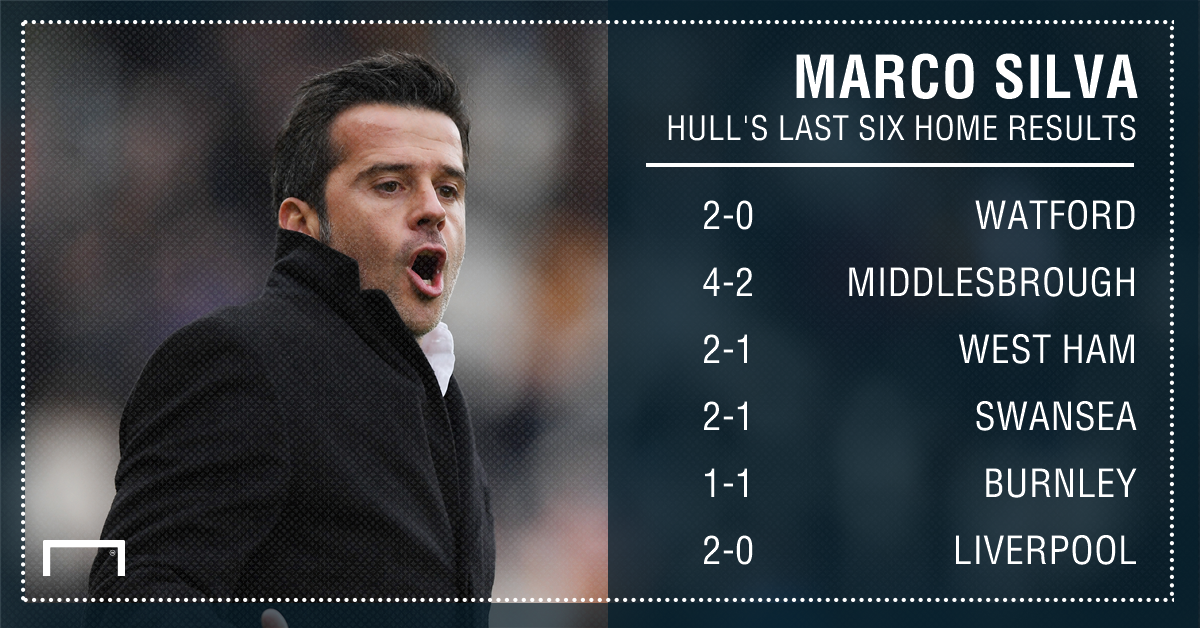 Silva has guided Hull to four straight home wins, and has also claimed the scalp of Liverpool, with the Tigers winning 2-0 at the KCOM Stadium. They also claimed a highly creditable 0-0 draw with Manchester United.
All the latest Premier League transfer rumours
In 15 Premier League games, Silva has gained 21 points. He claimed he needed a "miracle" to keep Hull up when he replaced Mike Phelan back in January but he is on the verge of turning that water into wine.
He has, subsequently, attracted a few admirers. Newspaper reports have linked Silva with a number of Premier League clubs, namely Southampton and Watford, while FC Porto and Inter are also said to be interested.
Silva, though, is unperturbed. "Nothing has changed in my day and in my work," he said this week.
"The speculation with a coach and the players is normal in football and it starts now. But we never lose our focus. Our players as well. We have one goal in our mind and that is our focus."
That goal appears to be on the horizon. A win over Sunderland and the embattled David Moyes would give a huge boost to the club's survival hopes, and would also be one in the eye for pundits like Merson and Thompson, who repeatedly claim that British jobs should be for British managers.
When Silva took over at Hull, the club were bottom of the Premier League with 13 points. Sunderland had 15. Now Hull have 34, while the Black Cats have a mere 21 and have been consigned to life in the Championship next season.
Remember, however, that Silva "has not got a clue".
Moyes, meanwhile, has Premier League experience, he speaks English, and really is very well versed in the lexicon of the division. After all, he has lost to just about every team competing in it.
Silva, though, is part of the new school of foreign managers who buy into philosophies and systems, and who make their players better through genuine tactical insight and hands-on coaching.
While Moyes has torched his reputation at Sunderland, Silva has dragged Hull back from the brink and earned a number of suitors in the process.
Hull have an option to extend his contract and are reportedly set to do so if survival is confirmed, but it remains to be seen if that deters the vultures.
It would be heartwarming to see Silva remain at the club, and turn them into a genuine Premier League force. After this season, few would bet against him, although two ex-pros might have a thing or two to say.