Premier League
Manchester City open up largest margin at Christmas in English top-flight history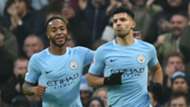 Manchester City's gap on the rest of the Premier League continues to grow.
City's 4-0 beating of Bournemouth on Saturday coupled with Manchester United's last-minute 2-2 draw with Leicester City left Pep Guardiola's dominant side 13-points clear of Jose Mourinho's Red Devils, who sit second in the table. 
That gap represents the largest lead ever by a top-flight team on Christmas day. 
13 - Man City will be 13 points clear of Man Utd on Christmas Day – the biggest points gap between first and second place on Dec 25th in English top-flight history. Chasm. pic.twitter.com/oqyg4GEslp

— OptaJoe (@OptaJoe) December 23, 2017
Guardiola's City side have won 18 times already this season, with just one draw in 19 matches to open up what appears to be an insurmountable lead at the top of the table. 
In fact, City have won as many matches this season as Manchester United did all of last season. 
18 - Manchester City have already won as many Premier League games this season (18 of 19) as Manchester United did in the whole of 2016-17 (18 of 38). Parked. pic.twitter.com/GNL7TRyE6g

— OptaJoe (@OptaJoe) December 23, 2017
And Guardiola's side are doing it all in style as well. 
It had been 25 years since an English side racked up 100 goals in a calendar year before Man City hit that mark on Saturday. 
100 - Manchester City have become the first English team to score 100 top-flight league goals in a calendar year since Liverpool in 1982 (106). Superb. pic.twitter.com/FJGpa6u5nw

— OptaJoe (@OptaJoe) December 23, 2017
City could make the gap even wider before the year ends, as Guardiola's men face Newcastle and Crystal Palace before New Year's Day.