Premier League
Man Utd's No.10 or Zlatan's foil - How Griezmann will fit into Mourinho's line-up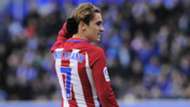 Antoine Griezmann is Manchester United's number-one target ahead of the summer transfer window. The Frenchman has continued to catch the attention at Atletico Madrid in 2016-17, and it is expected that United will tempt the Spanish capital club with a sizeable bid as they look to launch a sustained Premier League title challenge next season.
Man Utd make €80m Griezmann top target
United may have improved from an aesthetic point of view under Jose Mourinho but there has remained a lack of incisive attacking verve at times this term, meaning their dominance of possession has not always led to victories. As a result the Red Devils board have identified Griezmann as their key to improving the productivity levels in the final third, and the added incentive of attracting one of the world's most recognisable footballing figures will not be lost on those of a commercial bent in the boardroom.
With Wayne Rooney widely expected to move on to pastures new after the current campaign, Mourinho's extensive stock of forward options will be thinned somewhat and Griezmann would add the bonus of flexibility which United could utilise to the maximum should they find themselves with another busy calendar of league and cup fixtures in 2017-18.
So where exactly would the 25-year-old fit into Mourinho's plans? How might he be best used in the United setup as it stands? Below, Goal looks at a number of options open to the Portuguese should Griezmann join in the summer.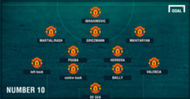 While Mourinho has given a number of players the chance to start from the number 10 role in 2016-17, it is fair to say that he has yet to hit upon the ideal scenario. Paul Pogba has been used in that higher role regularly but hasn't always looked comfortable in the more congested space sometimes involved, while Rooney has failed to make the position his own when given the opportunity with his tendency to slow the pace of attacks harming United.
Payet: I don't need to justify myself
Juan Mata and Henrikh Mkhitaryan have also been given fleeting chances in the middle, but in Griezmann they may find somebody who can play as the central point of the attacking midfield with greater consistency.
That would also help to open spaces for the multitude of alternatives out wide, with the likes of Anthony Martial, Marcus Rashford, Mata, Mkhitaryan and Jesse Lingard all battling for the two wing positions.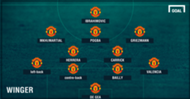 To some, Griezmann's most natural position is as a winger. He has often torn up defences all across Europe - both with Atletico and previously at Real Sociedad - by cutting off the flanks, and that could be a real option for Mourinho if the transfer goes ahead.
While the United boss already has plenty of alternatives out wide, using Griezmann from either wing - here exampled from the right, but also a possibility from the left - would allow Pogba to step up into the attacking line if required and would give the side greater balance in midfield with the extra sitting player in front of the back four.
This may well be a set-up favoured more greatly in fixtures against higher-rank opponents, giving United a greater defensive protection while also adding quality to the attacking line.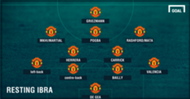 At some point, Zlatan Ibrahimovic will eventually start needing longer periods of rest! The 35-year-old has defied many doubters in 2016-17 with his relentless involvement in United's tilt in multiple competitions, and with 19 goals to his name so far it is fair to say he is showing few signs of fatigue.
But that cannot go on forever, and while Marcus Rashford will stake a claim to be the Swede's understudy Anthony Martial has failed to convince when used as a number nine with just three goals in 16 starts there for the club. As such, Griezmann could become another option in the figurehead role having shown on a number of occasions in La Liga that he can give his side a different point of reference from the striker position.
United might already be a team with a multitude of options, but Griezmann can only strengthen their hand when it comes to adding quality alternatives going forward.