Sergej Milinković-Savić
Man Utd Scouting Report: How did €100 million target Milinkovic-Savic play vs Costa Rica?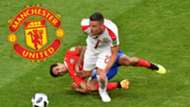 Manchester United target Sergej Milinkovic-Savic was central to Serbia's tactics but failed really to live up to the €100 million price tag that Lazio want for the No.10.
Serbia controlled possession and the play but it took veteran Aleksandar Kolarov's trademark free kick to break down the five-man Costa Rican defence in Samara, as a winning start was essential to Group E with Brazil and Switzerland to come.
Milinkovic-Savic made only his fifth appearance for Serbia, but he is already the star and covered the most ground in the first half as he aims to move around the defensive Costa Rica side.
Tight chest control, intelligent runs behind, and smart passes under pressure showed that 23-year-old had been overlooked for too long by ex-Serbia boss Slavoljub Muslin.
Juventus and Real Madrid have also been rumoured to want the attacker, as it seems Lazio will have the option to easily cash in, if needed.
However, €100m looked a generous figure for the Spain-born Serbian star. He lacked that decisive touch and his first big chance only trickled into Keylor Navas' hands, despite a perfect first touch from Kolarov's long ball.
His long-range effort was wayward and he didn't come close to scoring. Serbia play with three No.10s as Milinkovic-Savic operates centrally with Dusan Tadic and Adem Ljajic either side of him. The three got in each other's way all too often, as the technical attacking midfielders looked to use their ball skills in the absence of natural pace.
Milinkovic-Savic outshone both Tadic and Ljajic at least and late on provided a wonderful chance for Aleksandar Mitrovic who should have scored at least twice against an ageing Costa Rica. Serbia have already moved to using the young star as their central figure and he really dictates the way Mladen Krstakic's side play.
Former Lazio man Hernan Crespo thinks that the Serie A star is ready for his next step after watching him light up the league season in Italy.
"Milinkovic-Savic is a great player. I think he is really great," Crespo told Goal. "He is a player that plays everywhere. He is very physical. If he went to the Premier League next season that he would be great. He plays very well as a physical midfielder.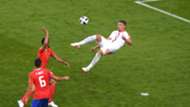 "He arrives in the box in an easy way. I think he is ready to play for any club. I don't talk about money but he is very strong."
This was his first introduction to international tournament football and he will grow. He was rightly identified by Oscar Ramirez's side as the man who needed to be systematically fouled.
The spark is there with Milinkovic-Savic but he remains a rough diamond with a tendency to get caught in possession. These traits haven't stopped Paul Pogba reaching the top and surely 'SMS' will soon follow him to a club at the top of world football.