Kylian Mbappé
Man Utd & Madrid target Mbappe hailed by former Monaco star Collins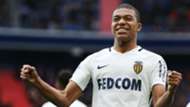 Monaco forward Kylian Mbappe is considered to be a "top, top player" by John Collins, who says it is easy to see why the likes of Manchester United and Real Madrid are keen.
The teenager has emerged as one of European football's most exciting and sought-after talents with his exploits in the 2016-17 campaign.
Mbappe has plundered 19 goals in all competitions, at 18 years of age, to draw obvious comparisons with former Monaco forward Thierry Henry.
'Mbappe can become truly great'
Another of those to have graced the books at Stade Louis II with distinction in years gone by, Collins has added his voice to those piling praise on a player with the potential to become a global superstar.
He told Ligue 1's official website: "This season I think everybody can see he's got great legs, great energy, he's got skill. He carries the ball well and he can score goals, he's got that calmness in front of goal.
"Sometimes you see young players they get to that final position when they're going to shoot and they get over excited and try to hit it too hard or miss the target.
"But he's got that calmness which all top players have, key moments in the game they stay calm, and also he carries himself, he's got that look 'I'm the man give me the ball,' he's playing without fear and that probably is the key to being a top, top player."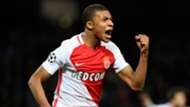 Collins, who played for Monaco between 1996 and 1998, has also hailed the club for making the most of funds moved in and out during recent transfer windows – with it possible that Mbappe could soon be generating another hefty transfer fee.
The Scot added: "Two, three years ago the recruitment was sensational, they got 50 million (pounds) for Anthony Martial from Manchester United.
Why Mbappe must not leave Monaco yet
"Monaco always get good deals, it's been a skill, an art, to get top money and they invested that money, there's not a team in world football that has invested 50m as well as Monaco has.
"English clubs have got lots of money, and what English clubs have done in the last few years is waste a lot of money.
"Another reason why Monaco is so successful with the young players, what you don't have here is the pressure and the tension to win things instantly and all the time, like some of the big clubs in England do, so it's a great environment for young players."