Premier League
Man Utd climb above Real Madrid to reclaim world's Richest Club accolade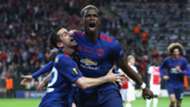 Manchester United have been named as the world's most valuable football club for the first time in five years, overtaking La Liga giants Real Madrid.
All the latest transfer rumours
According to Forbes, whose calculations are based on equity plus net debt, revenues and operating income for the 2015-16 campaign, the Old Trafford outfit are now worth £2.86 billion.
During the season before last, United generated revenue of around 765 million US Dollars - approximately £593 million.
"Manchester United's return to the top spot is a testament to their powerful brand and marketing acumen," said Mike Ozanian, assistant managing editor at Forbes Media.
---
WHO ARE THE RICHEST CLUBS IN FOOTBALL?
---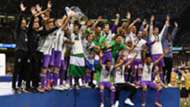 Real, who have been top of the pile for the previous four years, drop to third in the list of most valuable clubs in world football.
Pique hammers Madrid over bus parade
Zinedine Zidane's men recently claimed their second Champions League trophy in as many years and beat rivals Barcelona to the Liga title, but the Catalan side have climbed over Madrid into second place in Forbes' 14th annual rich list.
Barcelona's £2.82 billion value shades Real's £2.77 billion, with Bayern Munich and Manchester City completing the top five.
Bayern, who have secured the Bundesliga championship for five consecutive seasons, come in with a value of £2.10 billion, with Pep Guardiola's City moving above Arsenal with a total of £1.61 billion.
It is the Premier League who dominate the top 20 richest clubs in football, with Arsenal, Chelsea, Liverpool and Tottenham joining United and City in the top 10.
Leicester City, shock Premier League champions in 2015-16, move to 19th in the list, while West Ham are 15th following their move into the London Stadium.
---
TOP 20 RICHEST FOOTBALL CLUBS
---
1 – Manchester United 3.69bn US Dollars (£2.86bn)
2 – Barcelona 3.64bn US Dollars (£2.82bn)
3 – Real Madrid 3.58bn US Dollars (£2.77bn)
4 – Bayern Munich 2.71bn US Dollars (£2.1bn)
5 – Manchester City 2.08bn US Dollars (£1.61bn)
6 – Arsenal 1.93bn US Dollars (£1.5bn)
7 – Chelsea 1.85bn US Dollars (£1.43bn)
8 – Liverpool 1.49bn US Dollars (£1.15bn)
9 – Juventus 1.26bn US Dollars (£976m)
10 – Tottenham 1.06bn US Dollars (£821m)
11 – Paris St Germain 841m US Dollars (£652m)
12 – Borussia Dortmund 808m US Dollars (£626m)
13 – AC Milan 802m US Dollars (£621m)
14 – Atletico Madrid 732m US Dollars (£567m)
15 – West Ham 634m US Dollars (£491m)
16 – Schalke 04 629m US Dollars (£487m)
17 – Roma 569m US Dollars (£441m)
18 – Inter Milan 537m US Dollars (£416m)
19 – Leicester City 413m US Dollars (£320m)
20 – Napoli 379m US Dollars (£294m)