Manchester United
Man Utd aren't exciting under Mourinho - Saha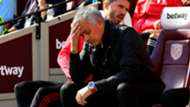 Manchester United are not playing exciting football and lack direction under Jose Mourinho according to Louis Saha.
While sweeping their way to 13 Premier League titles with Sir Alex Ferguson at the helm, the Red Devils were renowned for their attacking mindset.
A different philosophy has been adopted by the club's current coach, with Mourinho having enjoyed considerable success as a manager who builds on strong foundations at the back.
He has faced criticism for that approach during his time at Old Trafford, with pressure mounting on him once more as cracks begin to appear throughout the current United team.
The Red Devils are finding clean sheets and victories hard to come by at present, while there remains a lack of spark in the final third of the field.
Asked by Sky Sports whether United are an entertaining side to watch, former striker Saha said: "Not as much as before, that is for sure.
"It's easy for me to say that, but I don't know what is going on inside.
"There is an indication for me as a striker that they don't have the indication. It seems like they don't know where to go, they don't have the animation when you feel like there is some kind of understanding."
Mourinho is the man who must find the answers to the questions being asked of United, with a number of former Old Trafford stars having suggested that he could be on borrowed time.
Saha agrees that things do not look good, with a proven tactician struggling to bring anything out of an inconsistent side that continues to do its manager few favours.
The Frenchman added: "Mourinho has to deal with the nonchalance that some players could have, maybe sometimes the lack of experience that they have.
"It's all about him trying to coach and trying to give them the indication of what exactly he wants. Right now, we don't see this."
United, who have just one home victory to their name this season from the opening weekend, have gone three matches without a win across all competitions.
Their next opportunity to get back on track will see them host Valencia in the Champions League on Tuesday, while another outing at Old Trafford is set to be taken in against Newcastle on Saturday.