Transfers
Man United target Fabinho: My time at Monaco is coming to an end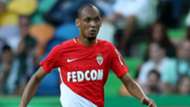 Highly rated Monaco midfielder Fabinho has admitted that he has come to the end of the line at the Ligue 1 club and is ready for a fresh start. 
Fabinho, 24, has become a cornerstone of the Monaco team, racking up over 200 appearances in five years since moving from Real Madrid. 
His performances have not gone unnoticed, with clubs such as Manchester United and Atletico Madrid both linked to the Brazilian in recent weeks. 
And Fabinho, who had revealed in December his wish to leave in 2018, is determined to pursue his career elsewhere after his prolonged spell in the principality. 
"If the right move comes up, perhaps a change in league or to a club with a bigger structure and higher ambitions, I would love that," he explained to Lance!
"My time at Monaco has been great, I managed to win a title, now I believe my time here might be coming to an end. 
"I know that the club's goal is to take second place [in Ligue 1] and earn a spot in the Champions League, not to sign big-name players but rather youngsters to give them their start. 
"I believe that I have been through that, I came here as a nobody, made my name in the club, achieved things; so maybe I need something new, a new challenge."
Fabinho also referred to compatriot Neymar's move to Paris Saint-Germain at the start of the current season, a transfer he believes was a coup for Ligue 1.
"It was a surprise to see Neymar come to France. I did not expect him to go to PSG, but it was great for the league to get one of the three best players in the world," he added. 
"The league has had much more attention, because he is a world-class player. It was great in that sense, because the other teams are suffering playing against him here, he is brilliant. 
"For the television viewer it is fantastic to see a show every week. He added a lot of good things to the league and he is the guy everyone is talking about, which is normal because he is the best player. 
"I hope, as a Brazilian, that he has a lot of sucess at PSG, although unfortunately for the rest that will mean a few more years of dominance for them!"