Manchester City
VIDEO: Man City bus wrecked by Liverpool fans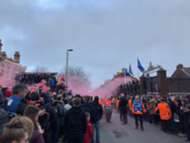 Manchester City's team bus had its windows smashed by Liverpool fans and was rendered unusable ahead of Wednesday's Champions League quarter-final.
Hundreds of Liverpool fans had gathered around the Arkles pub on Anfield Road to greet their own team bus, as has become tradition before the club's biggest matches.
But a handful of supporters reacted angrily when City's bus took the same route towards the stadium, with a number of objects thrown from the assembled crowd.
Eggs, flares, cans and glass bottles were thrown as the City bus made its way towards Anfield. Sources have told Goal that the front and side of the bus was seriously damaged, and as a result a replacement is having to be sent from Manchester to take the players back after Wednesday's game.
City bus arrives at Anfield. A few cans, flares and bottles thrown at it. The smashed bottle (which you can see towards the end of the vid) nearly landed on my head, which would've served me right tbf pic.twitter.com/NgMep0LAhP

— Sam Lee (@Sammy_Goal) April 4, 2018
UEFA has taken photographs of the damage and is now investigating. 
It is understood that City officials will want charges brought against anybody found to be guilty of throwing objects at the bus.
Liverpool fans had planned a hostile welcome for the City team but Jurgen Klopp, speaking on Tuesday, urged supporters not to break the law.
He said: "It's wonderful, it's great, it shows everything, it shows the passion. As long as it happens in a legal way, I'm completely fine with it." 
But, following the incident, Klopp used his pre-match interview with BT Sport to apologise to City for the behaviour of the handful of Liverpool fans.
When asked if it was a shame to start the evening that way, Klopp told BT Sport: "Absolutely, I don't understand it.
"There was a lot of talk about it before and we tried everything to avoid a situation like that.
"When we came here we had to take another way as well, which we thought 'okay, well obviously that's because last time it didn't work well'.
"When we came through it was obviously very positive but we didn't know when we were on the bus about what happened before because City were in front. For Liverpool FC I have to say sorry."
City boss Pep Guardiola also spoke to BT Sport following the incident and offered his gratitude to his opposite number Klopp for his words of support.
Guardiola said: "I want to say thank you to Jurgen for his words. I know he didn't expect that, we didn't expect that, so with what happened last season in Dortmund I didn't expect yesterday about people asking me about that - I thought the police would know and do something about that.
"Fortunately for us nothing happened to the players.
"I know that this is not Liverpool - I know the club is much bigger than the four, five or 10 guys. Hopefully it doesn't happen again."
Liverpool also released a statement to condemn the incidents and offered their support to City.
The club statement read: "The club condemns in the strongest possible terms the scenes which preceded our Champions League quarter-final, which resulted in damage being inflicted on the Manchester City team bus during their arrival at Anfield.
"We apologise unreservedly to Pep Guardiola, his players, staff and officials caught up in the incident.
"The behaviour of a number of individuals was completely unacceptable and the club will cooperate fully with the authorities to identify those responsible.
"The priority now is to establish the facts and offer Manchester City whatever support is necessary."