Manchester City
Man City already looking forward to 'real test' against Liverpool – Gundogan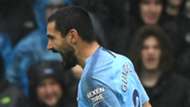 Manchester City midfielder Ilkay Gundogan already has his eyes set on a Premier League date with Liverpool, billing the forthcoming clash as a 'real test'.
Pep Guardiola's side might have three matches to play before meeting the table-topping Reds, but it is that fixture that they already appear to have in their minds as a vital one in their title defence.
Before then, however, they have Oxford in the League Cup, Brighton at home in the league and a key clash in Hoffenheim in the Champions League, a vital fixture given they lost their opener in the competition to Lyon.
The Germany man, though, is already looking forward to the meeting on Sunday, October 7 – the last game before the international break.
"At the moment it looks like those games against the top clubs will be important," Gundogan said after the Citizens cruised to a 5-0 win over Cardiff on Saturday.
"We play Liverpool in a couple of weeks so it will be a real test for us at Anfield as they are also getting their points.
"Liverpool is a very strong team and Chelsea are very strong. United just dropped points against Wolves, like we did, so I think Wolves will cause a lot of problems. 
"But it's up to us in the end. We are trying to play like we did today because when we are ready like this our chances of winning games and titles are the highest. So that's what we try to achieve every game."
Following that shock 2-1 loss to Lyon in Europe, Gundogan believes that he and his team-mates bounced back well, having pinpointed an approach that was not imposing enough against the Ligue 1 side.
"The beginning wasn't easy because we knew Cardiff are a very physical team and we knew they were going to play a lot of long balls, so it was about winning the second balls and being aggressive," he said.
"When we play like we did here it's very difficult for opponents to beat us.
"We missed it in the first-half against Lyon, we were not aggressive enough. We weren't winning the duels and that's why we conceded two easy goals.
"Today was different, that's why we scored five and didn't concede."