Safiq Rahim
MSL2017 Best Players: #2 Safiq Rahim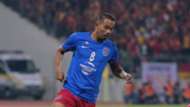 Goal  count down the Best Players from the top competitions in the Malaysian football season in 2017, and here's number 2.
Safiq is the highest local player in the list and rightly so. Capturing his fourth straight Super League title as well as lifting his first ever Malaysia Cup trophy, it has been a season to remember for the mercurial central midfielder.
Still the heartbeat of the all-conquering Johor Darul Ta'zim (JDT) side, Safiq hasn't showed any sign of slowing down despite hitting the age of 30 this year. Remaining a fulcrum of the Southern Tigers, Safiq's contribution in the final third of the pitch is remarkable.
Used further forward this season than he was in the past, without being shackled by defensive duties, Safiq shines as the main creative form in the JDT side. His passes and ability to pick out runs saw him having a hand in 33 goals that JDT have scored in 2017.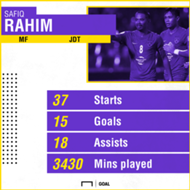 As one of the most recognisable local players in the league, Safiq often attracts attention on matters off the field as well. But that side of him needs to be separated from the performances he puts on the pitch, hence why he's in the list.
Should he avoid injuries and JDT don't regress in the immediate future, Safiq could well claim AFC Champions League group stage participation in 2019 as the final hurrah in his long and illustrious career.
The other lists:
MSL2017 Best Players: #5 , #4 , #3
MSL2017 Worst Flops: #5 , #4 , #3
MSL2017 Most Promising Players: #5 , #4 , #3, #2