Toni Kroos
'That chapter is finished' - Kroos rules out Bayern return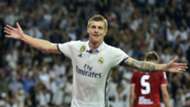 Toni Kroos has ruled out a second stint at Bayern Munich, or in the Bundesliga, with it possible that he could stay at Real Madrid past 2022.
The World Cup winner left his homeland for Spain in the summer of 2014 after establishing a reputation as one of the finest midfielders in Europe.
His talents have been embraced at Santiago Bernabeu, with 145 appearances made across three seasons.
Real Madrid consider Oblak move
Kroos admits to enjoying his time in La Liga and sees no reason why he should be looking to retrace his steps and head back to familiar territory in his native Germany.
He told a podcast with business magazine Sponsors: "In the Bundesliga, I will definitely not play anymore, that chapter is finished.
"I cannot imagine going back to Bayern, it will not happen, so there is no other option for me in Germany."
Kroos committed to a new contract with Madrid in October 2016, keeping him at the club for the foreseeable future.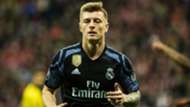 He will be 32 by the time that agreement comes to a close, but there is a chance that another extension could be put in place.
Kroos added on his future: "I cannot say what's going to happen in five years, but the goal is to stay at Real Madrid."
Deschamps explains Benzema exile
And when the time does finally come to hang up his boots, the talented midfielder has admitted that he will not be looking to pursue a career in coaching.
He said: "Not because I do not trust in myself or it is not fun, but because it would require more time and effort than now as a player."
For now, Kroos' focus is locked on helping Madrid to end the 2016-17 campaign as double winners, with Zinedine Zidane's side chasing down La Liga and Champions League crowns.