Real Madrid
Madrid lose case against video depicting Pepe as Hannibal Lecter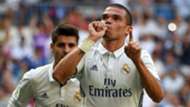 Real Madrid have lost a court battle for €6 million in compensation over a video depicting Pepe as Hannibal Lecter after Spain's Supreme Court ruled against them.
Neymar can't convince Coutinho to join Barca
In promotion of a Clasico match between the sides in 2013, Catalan station TV3 broadcast clips of Real Madrid players such as Pepe, Sergio Ramos, Xabi Alonso and Mesut Ozil fouling Lionel Messi.
It included footage of hyenas chasing animals, ending with the Portuguese centre-back resembling the cannibalistic serial killer played by Anthony Hopkins in The Silence of the Lambs.
Madrid took action against the channel after it appeared on air and won, with the court ruling TV3 had shown "slanderous" images and demanding they pay €20,000 in damages to the club.
However, the case was taken to the Supreme Court, which has overruled the previous decision and ruled unanimously in favour of TV3. 
The judges ruled the broadcast was merely "satire" and did not "exceed the limits" of what is accepted, labelling it a sarcastic depiction of the rivalry between the two clubs.