Young Africans
Lwandamina: "It is very hard to manage something like this"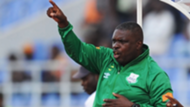 Young Africans (Yanga) Head coach George Lwandamina believes that he has good squad that can fight for the titles this season despite of their long list of injuries.
The Zambian who won the league title in his first season in charge currently sits second on the table this season five points adrift the leaders Simba SC.
Speaking to Goal Lwandamina said that he has good squad of senior and young players who are ready to fight for the team although he is deeply concerned with the list of injuries.   
"It is very hard to manage something like this, the list of injured players is very disappointing, but I am thankful for the young players who get their opportunities and fight for the team," said Lwandamina.
The former Zesco coach is hopeful that his team can defend the league title for the fourth time in a row and also win the Azam Sport Federation Cup for the second time in three season.
Yanga for the majority of this season they has missed some key players including Thaban Kamusoko, Donald Ngoma and Amiss Tambwe due to injuries.