Germany
Low extends Germany contract to 2022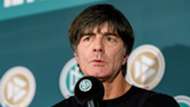 Joachim Low has agreed a two-year contract extension to take his time in charge of the Germany national team through to 2022.
Low's contract had been set to expire in 2020 but the coach will now be in charge of Die Mannschaft through to the World Cup in 2022, which is being held in Qatar.
The 58-year-old was appointed by the national team in 2006 and led Germany to World Cup glory in Brazil four years ago, a 7-1 demolition of the hosts in the semi-final the highlight.
Germany are among the favourites again in Russia, having triumphed with an experimental young squad at the Confederations Cup last year.
Assistant coach Thomas Schneider and goalkeeper coach Andreas Kopke have also extended their contracts with Germany for a further two years, the DFB confirmed on Tuesday.
Low said: "Working together with Andy Kopke, Thomas Schneider, Marcus Sorg, Oliver Bierhoff and our entire team behind the team with the best players in Germany, to develop them and make them even better, to form a team going for the highest goals that are in football - that drives me and still gives me huge joy.
"These days, I feel a great desire for the upcoming World Cup in Russia and the intense weeks with the team. I would like to thank president Reinhard Grindel, secretary general Friedrich Curtius and the entire DFB for their support and trust in us and our work."
OFFICIAL: Joachim #Löw has extended his contract as #DieMannschaft head coach until 2022! #Löw2022 pic.twitter.com/WLu21vTpCW

— Germany (@DFB_Team_EN) May 15, 2018
Managing director of the DFB Oliver Bierhoff, a former Germany international, has also extended his contract through to 2024.
"I am thrilled to continue working in the entire team of the national team and to do everything I can together to stay at the top of the league," Bierhoff said.
"For me it is important to continue the process that has begun with the academy and the national teams in a consistent and long-term way. It's a big challenge that I like to face."
More extensions!

Thomas Schneider 2022
Andreas Köpke 2022
Oliver Bierhoff 2024
Marcus Sorg 2024#DieMannschaft pic.twitter.com/gFRsJFsf6X

— Germany (@DFB_Team_EN) May 15, 2018
DFB president Grindel was thrilled to confirm Bierhoff and Low will remain in post for the foreseeable future.
"It shows great mutual trust and respect that we will continue to work so well with all decision-makers in the field of sport and I have always said that Jogi Low is the best coach for the national team," Grindel said.
"I feel with him the unbroken will to remain with the national team in the next few years at the top of the world -  he wants to win more titles.
"Also outside the pitch he stands for values such as fair play and tolerance and is therefore an excellent worldwide representative for Germany and for the DFB."
We can only do it TOGETHER #ZSMMN #DieMannschaft pic.twitter.com/C45T6QR8cu

— Germany (@DFB_Team_EN) May 15, 2018