Lothar Matthäus
Goal Singapore speaks to German Legend Lothar Matthäus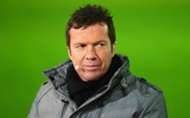 Goal Singapore speaks to Bundesliga Legend Lothar Matthäus as he comments on issues related to the Bundesliga, Bayern Munich and more.
On the dominance of Bayern in Bundesliga
Q1. Considering Bayern's new coach and lack of new signings, could this be the season when their recent dominance of the Bundesliga comes to an end? Which team can realistically challenge them?
Q2. The dominance (of Bayern) has resulted in the conception that the Bundesliga is not as competitive as other European leagues. Do you agree? In your opinion, what makes the German League different and special compared to other leagues?
All great team goes through cycles of success and failure, and Bayern has seen a lot of success in recent years thanks to Jupp Heynckes, Carlos Ancelotti and Pep Guardiola, so it will be interesting to see if Bayern can defend its title, who are undergoing a transition, with new coach Niko Kovač. Since this season, Bayern have increasingly relied on young talents. An example of this is the departure of Arturo Vidal and the commitment of Leon Goretzka. As the first season games have shown, this strategy seems to work and Bayern is currently the league leader. But they can ́t rest, because the newly established BVB and revived VfL Wolfsburg are close to the heels of FC Bayern München. I expect an exciting season.
On youth development / upcoming talent
Q3. The last two decades of Germany have always been successful in player regeneration. In your opinion, who is the youngest player who has the potential to become the future star of Die Mannschaft?
"Die Mannschaft" is undoubtedly home of one of the world's top young talents, and there is a long pipeline of exciting young, wonderkids to watch: Julian Brandt, Kai Havertz and Jonathan Tah (Bayer Leverkusen), Timo Werner (RB Leipzig), Julian Weigl (Borussia Dortmund) and Joshua Kimmich, Serge Gnabry, Leon Goretzka (Bayern) and the list goes on. It is very difficult to name the youngest player with the highest potential.
The Bundesliga clubs are an inexhaustible source of talent – and player skill levels are rising by the year. If you look at the U19 and U21– it is a clear result of this talent development strategy.
- U21: European champion (2014)
- U19: European champion (2016)
- Olympia 2016: 2nd place
On the Bundesliga in Asia
Q4. The Bundesliga has grown massively all over the world including Singapore, what do you think has been the unique selling point of the league?
Q5. How do you think the league can do better to popularize German football in South-east Asia?
The start of Bundesliga season is always exciting as it's a fresh start for all teams fighting for the title. Bundesliga matches are always exciting – with low ticket prices, standing terraces means all matches are played before the highest average attendances of any professional football league, and creates a thrilling and breathtaking atmosphere.
Other than packed stadiums, the Bundesliga also has the most goals scored amongst top European leagues.
 For the local physical fan connect in Asia there have been and will be some Legends tours as well as friendly matches and other marketing activities of the clubs and the Bundesliga.
Additionally, the Bundesliga has a strong focus on digital consumer connect in Asia. Some successes have already been seen, such as winning the Red Card Award for the most successful digital football league campaign in Asia. For example, the Bundesliga engagement per fan in Asia is the highest as compared to our competitors on social media channels. On Weibo in China, the Bundesliga have more than 2.6 million followers. In 2018, the Bundesliga was awarded as the #1 European League in China for the fourth consecutive year.
Q6. Do you think there will be any German players who will consider South-east Asia (e.g. Thai League) as a destination, before they retire from playing professional football?
We can already see from players like Lukas Podolski or Björn Lindemann that Asian leagues have become increasingly attractive and evermore stars are coming to Asia to experience their second spring there.
The quality of the Asia leagues has also increased in recent years, which makes the players more attractive to German clubs. The examples of Yuya Osako (SV Werder Bremen) or Shinji Kagawa (Borussia Dortmund) show that the Asian leagues has very good and talented players.
On the performance of German teams in European competitions
Q7. How do you think German teams will fare in Europe this season? How do you think they stack up against the likes of Real Madrid, Barcelona and Manchester City?
Teams who win this year can be out of the game very early the next year. Looking forward we are positive that German teams like Bayern or Dortmund will come back even stronger. In the seasons from 2002 to 2009, there was no Champions League final with German participation, but in the next four years there were three finals with at least one German team and 2012/13 even a pure German final with FC Bayern München and Borussia Dortmund playing the final in Wembley.