NPFL
Lokosa: Kano Pillars will be taken seriously after Plateau United defeat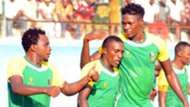 Kano Pillars' Junior Lokosa who scored his sixth goal of the Nigeria Professional Football League season believes his side will now be reckoned as among title favourites after their comfortable win over reigning champions, Plateau United on Wednesday in Kano.
Lokosa said prior to the tie that emphasis would not be on him but on his club but he put up a classy performance that pushed Sai Masu Gida into the top three as his two well-taken goals in the 20th and 26th minutes of the first half were enough for the home win.
"We are grateful to God for this win and I believe it will make other teams take us seriously. I have told you before that I would be glad the team wins than for me to score," he told Goal.
"That I am able to score today (Wednesday) is a just a way of complementing my team's effort. I will continue to do my best for my club and whether I score or not the main objective is to continue winning and to avoid unnecessary defeat.
"The victory over Plateau United is more of a statement making that Kano Pillars won't be a backbencher in the league this season. We fought hard to record that win and we are fortunate to get our goals in the first half because they (Plateau United) stepped up in the second half.
"We can confidently go into our next game against MFM, which is another home tie that we can boost our chances of moving closer to the top of the table," he added.
Lokosa further disclosed that he has dedicated his two goals against Plateau United to the memory of a friend he lost to death recently, Ebuka, otherwise known as Biggie and that it was sad that he could not reach out to him again like before.
"I want to dedicate these goals to Ebuka. We called him Biggie. He was like a brother to me and was even with me a day before his death. I was told he died from his sleep and I am still in shock. No amount of cries can bring Biggie back but I know that God knows best.
"I was surprised when I was told of his death but who are we to question God? I will always remember him in all that I do," he concluded.