Liverpool
Defenceless: Liverpool will not make Champions League if they don't stop gifting goals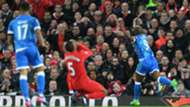 ---
COMMENT
---
Liverpool's plan heading into Anfield on Wednesday night was unequivocal. Jurgen Klopp had tasked his team with digging in fully for the remaining points on offer this season as they push to rejoin Europe's elite.
He wanted them to be able to "win ugly" and central to that was the importance of being a nightmare for the opposition to try to score against. "The first thing I think about is 'how can we defend Bournemouth?'" the Reds boss admitted.
Liverpool left reeling by late King goal
The hosts evidently misplaced that instruction, allowing Eddie Howe's men to dent their Champions League aspirations in the opening and final 10 minutes of a 2-2 draw.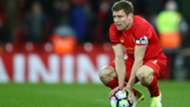 Their first was a gift, the second an uppercut to the gut.
With the final whistle nearing, goals from Philippe Coutinho and Divock Origi looked set to negate Benik Afobe's opener, giving the top-four designs of Klopp's men a big thumps up.
But the failure to adequately clear their lines - not once but thrice - allowed Joshua King to finish off a sequence that started with a long throw-in and ended with the visitors securing a point with 87 minutes on the clock.
Liverpool have scored five goals in their league fixtures against Bournemouth this season, yet only have a draw to show for it. Klopp was spot on in predicting attack wouldn't be the problem for his charges, but how they cope at the other end. 
They restricted the clear-cut chances created by the Cherries, but that work was undone with two shots on target resulting in as many goals.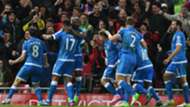 Ozil goes from scapegoat to saviour
Gini Wijnaldum, a player who typically makes all the right decisions, horridly deduced that a backpass to Simon Mignolet was a safe idea while being jockeyed by Harry Arter with Afobe in the vicinity. 
The home goalkeeper had no chance of getting to the ball first and the 24-year-old gleefully struck past him to put Bournemouth ahead on seven minutes.
As he pointed skywards in celebration, Wijnaldum dropped to his knees with his hands on his head. He was as stunned by his error in judgement - he could've passed to a waiting Coutinho instead - as Afobe was grateful.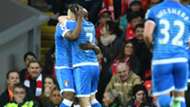 It was another example of conceding through sheer stupidity; with Liverpool already having a folder full of examples from this season alone. 
The opener encouraged Howe's side to drop deep and stay compact to stifle the Reds, while waiting for the opportunity to punish them on the break. 
Hazard the PL's most decisive player
Liverpool have struggled with the concept of being patient in these kind of situations and that was the case again for much of the first half, with desperation rather than clarity permeating their play. 
Five minutes before the break, they finally produced in the final third. Mignolet hit his goalkick long, with Origi and Steve Cook tussling in the air to win it, a flick off the defender fell for Firmino.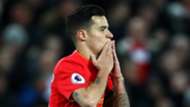 The Brazilian got the ball under control and despite being harried by Jack Wilshere, threaded through a superb pass for Coutinho. 
The 24-year-old, who Klopp described as having "world-class status", gave the assist the treatment it deserved to level things. 
Then, just before the hour-mark, Origi replacing the injured Sadio Mane in the line-up, robustly headed in Wijnaldum's wonderful work to record his 10th goal of the season and put his side 2-1 up.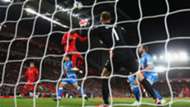 But just when it looked like Liverpool had rolled up their sleeves and seen the game out, a long Cook throw-in caused uncertainty in the area and Arter's shot fell to the feet of King, who turned Ragnar Klavan too easily. 
Klopp admitted Bournemouth's second made him "nearly vomit, actually. That's, of course, not nice."
Conceding so late and in such sloppy circumstances would've been more galling for the manager given he replaced Coutinho, who was feeling nauseous, with centre-back Joel Matip to tighten up.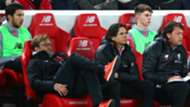 The Anfield side were hamstrung by the inability to field Sadio Mane, Adam Lallana and Jordan Henderson; the influential trio sidelined through a knee injury, thigh problem and foot concern respectively. 
But what they also miss desperately is the experience of being able to shut out a match with Klopp admitting they "have to learn a lot."
Pre-match, he spoke about not expecting a present in Champions League qualification being easy. The job would be less difficult if Liverpool weren't so generous with the gifts to the opposition.