Liverpool
Liverpool legend Sami Hyppia mentors young aspiring footballers at COURTS Football academy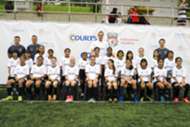 Former Liverpool star Sami Hyppia left a host of young aspiring footballers awestruck in Singapore as part of the four-week-long celebrations commemorating the redesign of COURTS Megastore in Tampines. 
Hyppia, who is set to meet and greet fans in the store on Saturday at 1:00 PM local time, made a special appearance at the COURTS-Liverpool Football Academy much to the delight of over 220 talented young aspiring footballers, from the top competitive teams in local Primary and Secondary Schools, ranging from 10-12 and 13-14 years old respectively.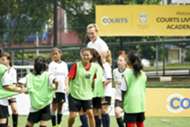 The Finnish defender also conducted a special training session for young girls' teams aged between 8 to 11 years old from Cedar Primary School and the JSSL Elite Girls programme.. 
Posing for pictures and signing autographs after giving the youngsters some invaluable tips, Hyppia clearly enjoyed his time with them. 
This year's COURTS-Liverpool Football Academy is guided by three coaches from Liverpool Football Club International Academy who will conduct week-long coaching.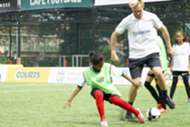 Mr Terry O'Connor, Group CEO of COURTS Asia, leading retailer of IT, electronics and furniture in the region said: "The love of sport and football runs in the DNA of many Singaporeans. Through the COURTS-Liverpool Football Academy partnership, we're bringing the once-in-a-lifetime experience of meeting idols and being trained by international coaching practices that have moulded the likes of Steven Gerrard to young aspiring football talent.
"This year, we've included a special training session for young girls to encourage love of the sport among a very talented group of athletes. We're excited to be delighting fans with the opportunity to meet their idol as well, when Sami greets fans in our newly redesigned COURTS Megastore in Tampines on 18 November 2017."