Liga MX
Liga MX heads into final weekend, but drama may wait until Liguilla begins
There will be exciting moments during the final weekend of Liga MX play. The last three spots in the eight-team Liguilla are up for grabs, with historic clubs like Pumas and Necaxa and recent champions Pachuca and Tijuana in the mix. Instead of a firehose of drama, though, it will be a trickle.
Liga MX teams negotiate their own TV deals and then play at the agreed upon day and time. That means that while the majority of leagues can schedule a simultaneous start on the final day of action, both to avoid any tomfoolery with teams able to play out to mutually beneficial results on the later days and to generate as much excitement as possible for fans, a shotgun start is impossible in Mexico.
There are exceptions to the rigid schedule. The teams playing on Sunday night usually avoid the Super Bowl. If an opponent agrees, a match can be moved to help out in CONCACAF Chmpions League or Copa MX play, though that rarely happens with teams eager to take advantage of a weakened opponent. This also keeps the league from having an opening weekend with any sort of flair - this tournament at least happened to start with Puebla welcoming the reigning champion, Tigres, but the first-night matchups often are dire.
We should still have an exciting weekend, but it will be nothing compared to the quick-fire fun that comes in the Liguilla. Until then, we'll have to see who the last three teams in the Gran Fiesta will be. Liga MX has less control about the final-day matchups being any good. We do have a Clasico Regio on the final weekend and an America vs. Santos Laguna game that will have a big bearing on seeding, but those clubs' playoff places are secure.
The Liguilla contenders largely are facing teams without too much to play for other than spoiling the dreams of their rivals.
The weekend opens with the only match between two hopefuls as Monarcas host Necaxa. Monarcas coach Roberto Hernandez has found life without Raul Ruidiaz difficult, but the forward is back from his red card suspension. Monarcas lost the match he was sent off in and the one he was suspended for, so seeing the Peruvian on the field should help Hernandez's side get over the hump. Necaxa has proven especially adept at getting draws this season, with nine on the year, a shocking seven of which have been 1-1 scorelines. That won't be good enough for a team that needs three points and help to make the postseason.
Later Friday, Tijuana welcomes red-hot Toluca. Xolos will hope Toluca manager Hernan Cristante gives a few of his top players rest with the superlider spot already sewed up. Tijuana has been inconsistent this year, with a strong defense keeping them in games but very little produced up front, especially after injuries hit Gustavo Bou and Juan Martin Lucero. Xolos are undefeated in their last three but need some big performances at the Estadio Caliente to end the Red Devils' nine-match winning streak.
Then it's on to Saturday. Pachuca closes out at home against an Atlas team that was woeful all season but suddenly took to life, winning its last two and bringing a four-game undefeated streak into the Estadio Hidalgo. Pachuca also has put it together late after a poor start with Keisuke Honda settling in (just before he's set to leave the club again) and many of the young players Diego Alonso has put into the starting lineup rewarding the manager's faith.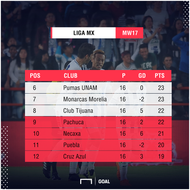 Pumas will go into their Sunday afternoon tilt with Queretaro knowing exactly what they need to get into the final eight. With 23 points, the Mexico City side currently sits in sixth and may be not need anything from the final day. Queretaro has struggled this season, so a decent performance for forward Nicolas Castillo may be enough to lock up a spot.
There's plenty to look forward to, but with the matches so far spread out and the matchups seeming a bit drab, we may have to wait until Thursday when the Liguilla kicks off to have a day that's full of excitement in Mexican soccer.