Lacazette euphoria, Jesus despair - A heart rate journey on Arsenal game day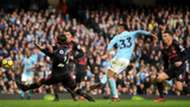 Watching football can be awfully nerve-wracking at the best of times. But throw in a trip to the runaway league-leaders while you're smack in the middle of an awful run of away form, and it quickly becomes the stuff of nightmares.
We decided to add to the fun by setting an Arsenal fan the challenge of monitoring his own heart rate during his side's visit to Manchester City a fortnight ago.
One of the many features available on the Samsung Gear S3 watch is the ability to easily measure your heart rate. So we set Arsenal fan Luke Matthews the ultimate test: Could he keep his heart rate down during his team's biggest game of the season?
After all, City had only been averaging 3.5 goals per Premier League game up to that point. What could go wrong?
This is how Luke's day unfolded:
---
90 MINUTES BEFORE THE MATCH
---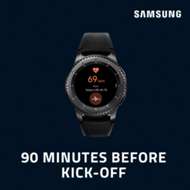 I'm feeling pretty calm. We're 90 minutes away from kick-off, but the nerves haven't kicked in just yet. I measured my heart rate on my Samsung Gear S3 and it's coming in at 69 beats per minute (bpm).
The watch kindly tells me the average resting heart rate is between 61 and 76, so I'm pretty relieved I'm not about to keel over just yet!  We'll see how that changes as kick-off approaches.
---
ONE OUR TO GO
---
I've just arrived at the pub and I am very angry – and the match hasn't even started yet! Simply seeing the Arsenal starting XI was enough to send me over the edge.
There is one player at who seems to evoke my fury more than anyone else: Francis Coquelin. Not only is he playing, but my Goal+ app is telling me he's going to be playing at centre-back! Against Kevin De Bruyne. Against Sergio Aguero. Against Leroy Sane.
I'm now at 101 bpm, my watch tells me. Is this normal? Google tells me no. Will I even make it to kick-off? Maybe not, maybe I'll get lucky - I'm really not sure I can bear to see Francis Coquelin, in defence, against the soon-to-be 2017/18 Premier League Champions.
---
KICK OFF
---
I'm still alive, somehow. Not only that, my heartbeat is at an almost-healthy 78 bpm.
Things are changing. Perhaps I will survive the game. Perhaps Arsenal might not embarrass themselves. Perhaps Coquelin will have a really good game like he did versus Man City at the Etihad in January 2015.
Okay, the last point may have been a step too far but who knows, this might not be so bad after all.
---
19 MINUTES IN -  KEVIN DE BRUYNE GOAL (1-0)
---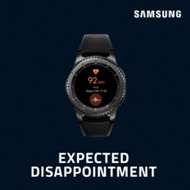 Less than 20 minutes in and it's already started. After doing quite well for the first 10, City's quality starts to shine through and Kevin De Bruyne has given them the lead. Up to 92 bpm we go.
The weird thing is, despite it going up, I don't really feel that angry anymore. Instead, I feel a bit of relief. At 0-0 you always think you have a chance, allowing yourself that false hope.
Now, at 1-0 down already, I was ready for the floodgates to open. I'd convinced myself there would be no more anger.
---
50 MINUTES IN -  SERGIO AGUERO  GOAL (2-0)
---
The anger has returned. Not because we're now 2-0 down, as it could have been four or five, but because it's via a penalty. A contentious one, too, with Nacho Monreal adjudged to have brought down Raheem Sterling.
It looked harsh. My Samsung S3 is now telling me my heart rate has gone up to 93 bpm. Surely that'd be that? There will be more goals, but is it even possible to get worked up when you've come to expect it?
Either way, the coat is on and I'm telling myself "One more goal and that's that, I'm going home."
---
65 MINUTES IN - ALEXANDRE LACAZETTE GOAL (2-1)
---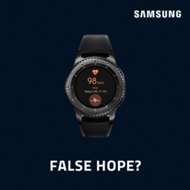 The comeback is on! I'm not going anywhere. Alexandre Lacazette has pulled one back and we might actually get something from this game.
My heart rate has moved up to 98 bpm. I don't think it's gone below 90 for the duration of the second half. Should I be fearful? Probably. But I'm not. I'm embracing it now. Alexandre Lacazette is a God - and we're going to nick a point!
---
74 MINUTES  - GABRIEL JESUS GOAL (3-1)
---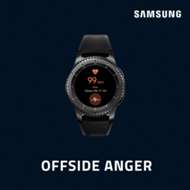 We're not going to nick a point. Lacazette may be a God, but I forgot Man City have their own Jesus to perform miracles, like scoring a goal which should have been ruled out for being offside!
I'm fuming. I'm livid.
And now 99 beats per minute.
---
FULL TIME
---
This is where I'm supposed to tell you the final whistle went and my heart went down to a normal resting rate. It probably did. It must have done.
But I got into a strop, left the pub with five minutes to go and jumped in a taxi home. I managed to survive the game and the day. Next up is the international break, too (yawn).
Perhaps in the future my findings will be used in studies to prove football is bad for your health. Perhaps angry Arsenal fans will pick it up and use it as a focal point in Wenger Out rallies. Or perhaps it will fade into obscurity along with Francis Coquelin.
Visit Samsung to discover more about Samsung wearable devices such as the Gear S3.