Primera División
La Liga teams heading to South Africa for Nelson Mandela Centenary celebrations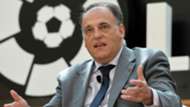 La Liga president Javier Tebas has revealed that two unnamed Spanish sides will be sent to South Africa to participate in a tournament as part of the Nelson Mandela centenary celebrations next year.
The centenary event will be held in memory of the former South African president who would have turned 100, and as part of a new partnership agreement between the South African Football Association (Safa) and La Liga, the Spanish football boss has confirmed that two clubs will be sent to compete in the tournament.
However, Tebas was tight-lipped on the identities of the two clubs, only choosing to state that the venue of the tournament is yet to be decided.
"We are still deciding on the city for this tournament - it might be Johannesburg, Cape Town or Durban," Tebas told The Star in an interview.
"There will be two Spanish teams travelling there. We have also organised a tournament for kids there in South Africa, including various other events we are still working on with Safa. I am not sure yet which teams, but we will know soon," he added.
Furthermore, Tebas explained that this will only be the start of bigger things to come.
"The partnership is in its early stages, but there is a lot more we are going to be doing, similar to the recent games (KwaMahlobo games) in Soweto to help promote youth development and community initiatives. We will be bringing certified coaches to train the local coaches as part of Safa's Vision 2022 target," he concluded.