Primera División
La Liga doesn't miss Ronaldo but would like Guardiola & Mourinho back - Tebas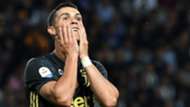 Cristiano Ronaldo's €100 million (£88m/$116m) move from Real Madrid to Juventus has not impacted La Liga as much as it would have done four years ago, says Javier Tebas.
The president of the Spanish top-flight saw one of the biggest names in sport depart the Santiago Bernabeu over the summer, with a five-time Ballon d'Or winner opting to take on a new challenge in Italy.
Madrid have struggled to find an attacking spark in his absence, while even eternal rival Lionel Messi has been unable to deliver the expected level of consistency from Barcelona this term.
Tebas is, however, adamant that La Liga does not miss Ronaldo, in a sporting or marketing sense, with the division still boasting enough superstar names to make it one of the most intriguing around.
He told the Daily Mail: "We have worked to make La Liga's brand above any one player or club.
"Four years ago him [Ronaldo] leaving would have worried me, on a scale of one to ten, I would have said nine. Now it worries me, on a scale of one to ten, four, or even three."
While prepared to shrug off the sale of a global icon, Tebas admits that he is keen to see the finest players and coaches turning out on a Spanish stage.
With that in mind, he hopes that the respective career paths of current Manchester rivals Pep Guardiola and Jose Mourinho one day leads them away from City and United and back to a league in which they once locked horns as bosses of Barcelona and Real Madrid.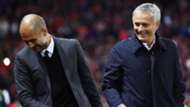 "I would like to have all the best players and all the best managers," said Tebas.
"I would like to have Mourinho and Guardiola, for example."
Tebas is not overly concerned if such deals are not done any time soon, with La Liga already proving that it can compete with the Premier League on the talent front.
He added: "If we follow the strategy of the Premier League, they haven't had a Ballon d'Or since Michael Owen and he is now playing the 'Legends' circuit.
"And they have not had a lot of players in the ideal 11 of FifPro either but it keeps on being the league that generates the most income in the world.
"And that shows that if you have a brand which is what the Premier League has, then it's not necessary to have the best players to have the best league in the world."
Messi and Ronaldo's duopoly of the Ballon d'Or over the last 10 years has kept Spain on top of the global game, with it expected that they will retain that standing in 2018 as FIFA Best winner Luka Modric of Real Madrid leads the hunt for another prestigious prize.