Serie A
KP Boateng sets European ambition with Sassuolo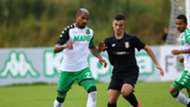 Ghana international Kevin-Prince Boateng has set sights on helping new club Sassuolo secure European qualification in the new season. 
The German-born is among the latest additions to The Black and Greens, having joined the Italian club from Eintracht Frankfurt last month. 
Last season, he played an instrumental role as The Eagles secured a ticket for the Europa League by winning the German Cup. 
"There is an important project here. I am working with a new coach who really wanted me and I want to do better than I did last year," Boateng told Gazzetta di Modena.
"Let's hope we can take our team back into Europe again."
Boateng played in the Champions League during his time with Serie A giants AC Milan and German club Schalke 04.
The Sassuolo transfer marked his return to Italy after two years. 
Boateng first played in the country in 2010 following a move to Milan after an impressive World Cup campaign in South Africa.