Philippines
Know your enemy: The Philippines Azkals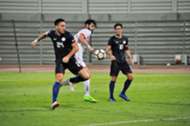 Once considered minnows of the ASEAN region, the Philippines have been on a steady rise as they look to be a competitive force in Southeast Asia.
There is no doubt that the upcoming AFF Suzuki Cup will be a platform for them to showcase their qualities in full-flow and they will have every belief, that this is their time.
For The Azkals, their rise coincided with the Philippine Football Federation's decision to seek improvement by persuading overseas talents with Filipino heritage to come and play for the country.
Indeed this move saw the likes of former Chelsea youth players Phil and James Younghusband; now the face of Philippines football, return and play a resurgence in The Azkals' rise. Besides the Younghusbands, there were also Chris and Simon Greatwich and current Premier League goalkeeper Neil Etheridge.
However it was only in 2010 when ASEAN sat up and took notice of the Philippines due to their excellent displays in the AFF Suzuki Cup that year. Considered underdogs, they surprised everyone by playing well and earning good results against the likes of four-time champions Singapore.
But it was the quarter-final win over reigning champions Vietnam which highlighted just how much they have progressed. Unfortunately an acrimonious defeat against Indonesia in the semi-final over two legs brought their positive run to a halt in the tournament.
On the other hand, many fans of The Azkals lamented the fact that their team had to play both legs in Jakarta owing to poor infrastructure in the country, causing fans to ponder on what if had their team been allowed to play at home in one of the legs.
Significantly this caused the Philippine Football Federation to re-look at the footballing landscape within the country and to make improvements. Two semi-finals finishes in 2012 and 2014 followed but it still remains to date The Azkals' best finish in the AFF Suzuki Cup.
And entering the tournament later this year, the Philippines will believe that this is their best chance to win the coveted trophy. After all this is a team that had qualified for the Asian Cup in March 2017 and will want to use the AFF Championships to prove that the Asian Cup qualification, was purely due to the merit of their side.
Indeed The Azkals have come a long way since their humble beginnings and if Singapore aren't careful it could be a short tournament for them.