KM7! Mbappe copies Ronaldo with new PSG shirt number
Last Updated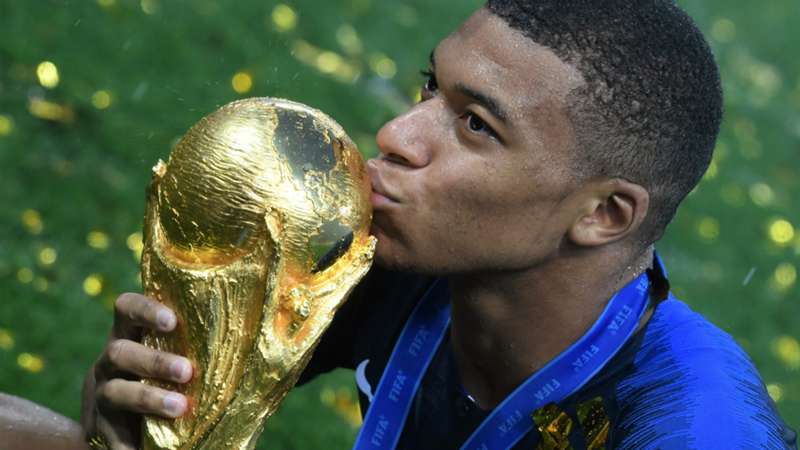 Getty Images
Kylian Mbappe already looks destined to replace Cristiano Ronaldo as one of the world's biggest stars, but the Paris Saint-Germain star seems to be going further to challenge the Portuguese's legacy.
The Frenchman has become a global sensation since his breakthrough at Monaco, and his stock is constantly on the rise.
A year after PSG made him the world's most expensive teenager in a move worth a potential €180 million (£158m/$210m), Mbappe has fired his country to World Cup success and expects to have a chance of ending Ronaldo's hold on the Ballon d'Or this year.
Mbappe had been touted as the ideal option to step into Ronaldo's position at Real Madrid as the attacker departed for Juventus, but the striker is set to stay in the French capital after the Spaniards released a statement denying a move is on the cards.
Instead, it appears Mbappe is looking to knock Ronaldo off his perch another way; by taking over as football's most iconic No.7.
PSG have revealed that the 19-year-old has ditched the No.29 shirt he wore in his first season with the club and will instead don the new figure for the 2018-19 campaign.
"The fu7ure is now," a video announcing the news declared on Twitter, using the hashtag #K7lian.
"I thought for a long time that the number was not important, it was only on the pitch that it mattered but it is an indication of your ambitions, the player you want to be," he told the club's website.
"I will try to continue my progress on the field and I think for me it was the right time to change number, I think it's a kind of affirmation. Number 7 is a legendary number, many great players who have worn it. I hope I could do credit in the field with this number.
"I will continue to work to continue my progress and see where it leads me but, with a number like this, we start well! I came to Paris Saint-Germain to leave my mark, there is a beautiful story to write and this is just the beginning. We are here again for good years and I hope that we will be able to do great things together."
Mbappe wore the No.10 shirt for France at the World Cup as he impressed on the big stage, scoring four times in seven matches as Les Bleus won the tournament for the first time since 1998 - before he was born.