African All Stars
Klopp: 'We all have no clue how good Keita can be'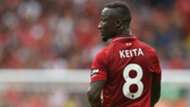 Liverpool manager Jurgen Klopp has stated that he cannot determine the extent of Naby Keita's potential, having adapted quickly at Anfield.
After arriving in the summer, the Guinea international has already hit the ground running with eye-catching performance in pre-season and his all-action display in the Reds' 4-0 mauling of West Ham United last weekend.
The 23-year-old flourished with Red Bull Salzburg in Austria, winning the Austrian Bundesliga Player of the Year before his departure to German side RB Leipzig.
Klopp praised the midfielder for his ability to adapt quickly, although he is yet to ascertain 'how good he can be.'
"Naby, we all have no clue how good he can be. He's too young to judge him. What can we say?" Klopp told the club website.
"Obviously he learned very quickly already in the last few years, from Austria to Leipzig, now here. So he adapts constantly and brings himself to the next level. [He] Adapts to the other players, uses them really well.
"I don't want to make it too big, it's just that I don't know. If you asked me what his greatest strength was, I couldn't say it really. It's not because he's not long enough here. But he's a very smart footballer."
Keita will be looking to once again prove his worth when Liverpool clash with Crystal Palace at Selhurst Park on Monday evening.